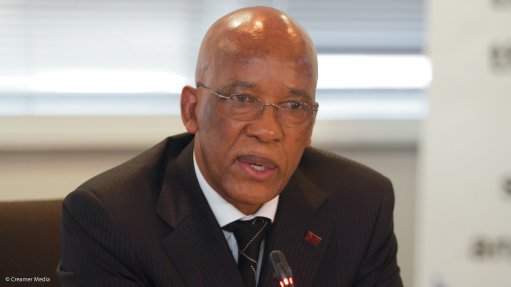 Energy Minister Dikobe Ben Martins
Photo by: Duane Daws
Energy Minister Dikobe Ben Martins will on Monday make major announcements related to the much-delayed independent power producer (IPP) procurement processes. But in an unusual move, it appears the announcements will coincide with the Minister's address to a paid event organised by The New Age (TNA) newspaper.
Following a meeting with renewable-energy IPPs on Friday, Martins confirmed that further procurement announcements would be made on April 14, but refused to be drawn on the details.
Departmental officials were at pains to stress, however, that the actual announcement would be released in the form of a written statement, which was distinct from the TNA address scheduled to take place at the Gallagher Convention Centre, in Midrand. Attendees would need to pay R792.30 to participate in the breakfast, which was also due to be broadcast on SABC 2.
Potential investors have been waiting for some time for the release, by the Department of Energy (DoE), of procurement documents for coal, gas and cogeneration IPP projects.
The DoE confirmed with Engineering News Online recently that any requests for proposals (RFPs) would be based on Ministerial Determinations published in December 2012. However, it had also indicated that the RFPs for coal and cogeneration could be released ahead of that for gas, as it felt the procurement programme should be guided by the Gas Utilisation Master Plan, which was yet to be finalised.
Under the baseload determinations signed off by Martins' predecessor, Dipuo Peters, 2 500 MW was allocated for coal-fired IPP projects, 2 652 MW for baseload or mid-merit natural gas capacity and 2 609 MW for domestic and imported hydro-electricity prospects. In addition, the DoE planned to procure 474 MW from near-term natural gas projects as outlined under the Medium-Term Risk Mitigation Plan, which also included a further 800 MW allocation for cogeneration capacity, arising from biomass, industrial waste and combined heat and power sources.
Renewables investors, meanwhile, were also still awaiting confirmation as to whether there would be an additional allocation under bid window three of the Renewable Energy Independent Power Producer Procurement Programme (REIPPPP), following the receipt of a number of competitive offers that materially breached the allocation threshold set for the window.
However, with the DoE having confirmed that the closing date for bid window four remained August 18, few observers were overly optimistic that an additional allocation would be released under bid window three.
Martins again lauded progress made under the REIPPPP, noting that 64 projects had already been selected, with the 17 preferred IPP projects, collectively valued at R44-billion, selected in November following the third bid window. These projects were due to reach financial close during the course of 2014.
Together the 64 projects collectively represent a combined foreign and domestic investment value of more than R100-billion and a combined capacity of 3 933 MW.
In addition, the submission date for a concentrated solar power-only bidding round closed on March 31, 2014, with three bids having been received for an allocation of 200 MW.
Martins promised the 61 of the 64 IPPs represented at a stakeholder engagement in Pretoria on Friday that the department would seek to improve on the programme in a bid to meet a target of having renewables comprise 30% of South Africa's electricity mix by 2030.
The 30% goal had been included in the current version of the Integrated Resource Plan for electricity, which was in the process of being updated. However, Martins confirmed the updated plan would not be finalised ahead of the May 7 election.
Also not yet finalised was the Independent System and Market Operator Bill, the Parliamentary progress of which had stalled. The Bill was viewed as important for providing long-term certainty of a levelling of the playing field between Eskom and the IPPs, but the State-owned utility had raised a number of concerns with its passage.
Martins, who described himself as an outgoing Minister in light of the elections, denied that he was in any way responsible for the delay. He added that the DoE and the next Minister, whether or not it was Martins himself, would seek to accelerate the Bill's progress once the fifth democratically elected Parliament had formally assembled.