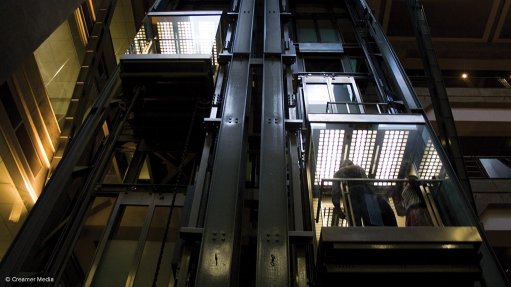 GROWING INDUSTRY Research has shown that there will be an increase in the amount of lifts installed throughout the Middle East
Photo by: Duane Daws
The global lift and escalator market was valued at $86-billion in 2012 and is expected to grow steadily from 2016 to 2020, spurred by robust demand from Asia, according to a report released last month by market research company Research & Markets.
Asian countries are investing in their infrastructure, particularly public transport and airports, and this has led to a rise in demand for new elevator and escalator installations, the report shows.
China is the world's largest elevator producer and consumer. In 2013, the country had the largest share of new elevator and escalator installations, contributing 67% to global installations. Demand from the region is expected to grow strongly through 2017.
It is expected that the Middle East and North Africa region will witness installation of close to 700 000 new elevator units by 2018. High growth in the elevator market is expected from new construction in the Middle East, including sustained elevator demand in Dubai and Abu Dhabi and new demand emerging from Jeddah, in Saudi Arabia.
The report says that the elevator market in the Middle East region, which is dependent primarily on the construction sector, has been under pressure owing to falling oil prices and the weakening economy.
Even though Africa does not currently have many skyscrapers and demand is primarily for elevator repair and maintenance, and as governments are acutely aware that poor infrastructure is the biggest obstacle to growth, elevator demand is expected to rise. The report shows that Kenya is emerging as a key market for elevators, owing to rapid urbanisation and population growth, coupled with expansion of the middle class.
Moreover, with the drive for infrastructure, rising urbanisation and the increasing number of high-rise buildings in India, the report shows that the elevator industry is headed for robust growth. Over the next decade, 100 smart cities, several new airports and metro rail routes are expected to be commissioned. The elevator market size was 52 600 units in 2013 and is projected to grow to more than 100 000 by 2020.
The highest demand is currently from the western region, followed by the north and the south. India is a price-sensitive market and suppliers have introduced products across price categories and segments.
The report concludes that market participants, such as elevator company Otis, have manufacturing facilities in India to keep costs low and that Kone is setting up a factory at Pillaipakkam, near Chennai, which is expected to double its production capacity.