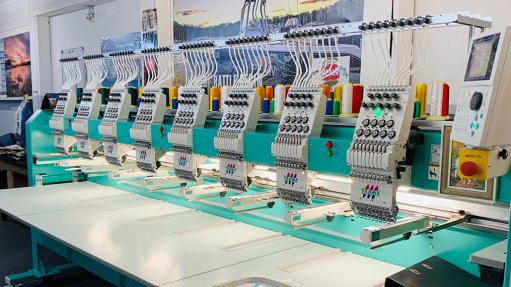 dtic funded machines
Tongaat-based manufacturing firm Protea Leather Natal has grown, diversified and become more efficient since its first application to the Department of Trade, Industry and Competition's (DTIC's) Production Incentive Programme (PIP) grants in 2011.
The company recently won the National Student Financial Aid Scheme (NSFAS) tender to supply laptop bags.
The company was established in 1988 by CEO Raj Singh in partnership with the Gidish family. Since then, the factory floor has been upgraded to include more than twenty machines, one digital printer and three embroidery machines. This enabled the company to diversify into other areas of manufacturing.
"Protea Leather Natal initially introduced the school range to Waltons. We have also worked extensively with Edcon CNA over the years. When both retailers started to import large quantities of school bags, we diversified into custom-designed bags for schools, with school logos and in the colours that the school requires.
"We diversified further into sport, concentrating on hockey, cricket and fishing. We have also managed to convince promotional houses to have their bags made locally for the local SAB brands," said Protea Leather Natal director Desigan Ganesan.
Ganesan mentions that, with input from nurses and specialists, the company has also developed specialised bags for Lancet Labs and Ampath, and has also grown its market share in the food industry with the introduction of home delivery services.
Ganesan says the lockdown in 2020 forced all sectors to shut down, leaving the company with practically nothing to manufacture. This resulted in the company also having shut down completely for March, April and May 2020.
"We reopened in June and continued working with 50% of our staff, two to three days a week on a rotational basis. With food delivery services booming and the fishing industry open, we managed to secure enough work to keep 50% of staff working a full three days per week," adds Ganesan.
He says the firm recently planned to go on short time once more. However, through the NSFAS tender to supply laptops bags, the company managed to keep operating.
"Thanks to the efforts of the DTIC, the laptop bags for NSFAS are being manufactured locally. Due to these efforts, we have not gone on short time but have instead hired ten more employees on a temporary contract, in addition to 61 permanent workers, to have these orders completed.
"The creation of employment has assisted ten more people that were affected by Covid. The income from this order has been a financial lifeline to the company," he says.
Ganesan adds that the ripple effect of this order has spread through to local fabric mills, packaging suppliers, suppliers of fittings for bags and the transport sector.
He advises that government should consider higher import taxes on items that can be manufactured in the country.