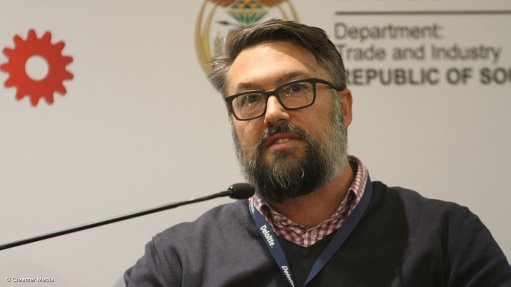 EIUG adviser Shaun Nel
Photo by: Duane Daws
As South Africa's electricity dearth looks set to linger well into the next decade, manufacturers are being increasingly encouraged to invest in off-grid, self-generation energy solutions to shift reliance away from the national grid and volatile electricity tariffs and enable firms to regain control over energy-reliant processing systems.
Noting that the "low-hanging" fruit in the form of small-scale energy efficiency measures was no longer sufficient, Energy Intensive User Group (EIUG) of Southern Africa adviser and BDO Consulting Services director Shaun Nel cautioned delegates at the Manufacturing Indaba on Tuesday that companies that neglected to pursue a programme of energy independence would soon find themselves behind the proverbial curve.
"Companies that aren't entering [meaningful] energy efficiency programmes are [in the process of] closing down or will close down soon . . . and industries that wish to remain relevant are looking at how they can introduce [these measures].
"The top five intensive energy users have already spent some R26-billion in the last few years in this regard," he noted during a panel discussion on alternative sources of energy for the country's industrial base.
While noting that there would be a lag before the bulk of manufacturers were able to transition to energy independence, Nel added that initial gains were best achieved through the introduction of waste heat recovery, off-grid energy supply for housing and administrative functions, solar energy harvesting and cogeneration technology.
"Every member of the EIUG is looking for self-generation opportunities and is moving off the grid, but we must remember that [only recently] in the late 1990s did [energy utility] Eskom convince them to move from gas as a source of energy to electricity, which was in surplus at the time.
"But because of these [off-grid] interventions and despite load-shedding, [overall industrial] production levels are still stable from about 2008 levels," he advanced.
He further argued that South Africa's national electricity grid required inherent structural strengthening before it could be considered reliable enough for industrial use, while suggesting that government needed to move away from a centralised energy planning system towards a more decentralised, purpose-designed energy system.
"This will require a strengthening of Eskom's capabilities, as well as [a recognition] that reliance on grand centralised planning is a pipedream.
"We can't rely on centralised planning, as pricing and market demand will change [the way that energy infrastructure is developed]," he said.
Green Habitat CEO Maurits Perold, whose company designed off-grid energy solutions for industry, told delegates that his company had retrofitted "several" aerotropolis-based manufacturers, enabling them greater control over the cost of their energy inputs and the ultimate price of their product.
This was particularly useful, given the precariousness of electricity supply and tariffs and pricing.
"We have done numerous projects like this. It's been [proven] and runs in conjunction with several grants from government, such as the Manufacturing Competitiveness Enhancement Programme and other tax incentives, which make it worthwhile.
"While there is [an up-front cost], this expenditure is amortised over time and provides a [long-term] competitive advantage," he said.
ABB South Africa MD Leon Viljoen, meanwhile, described energy efficiency interventions as "a must" in all manufacturing plants.
"The [country's energy supply shortfall] is a wake-up call, as South Africans have been spoilt for a long time . . . and companies are now opening their eyes for the first time with regard to energy efficiency," he said.
He added that microgrid technology was "ideal" to ensure the reliability and sustainability required by local manufacturers.
"The [electricity shortfall] is going to endure for [at least] the next three to five years, so any investment [in self-generation and energy-efficiency] will carry you through that period and should be seriously considered," said Nel.