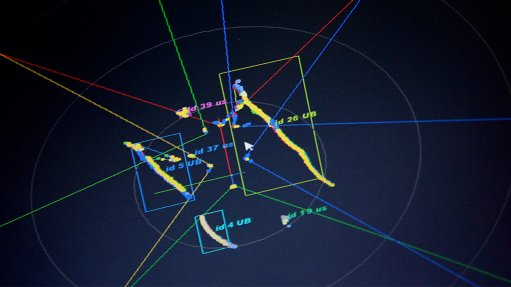 INVALUABLE ACCURACY Laser technology provides irrefutable accuracy to either dispute or approve what has been built by a contractor
Photo by: Bloomberg
Using laser scanning technology, from the preliminary phase of a construction project to the detailed design construction as well as the back-end phase, is indispensable, says professional services firm WSP | Parsons Brinckerhoff Africa transportation and infrastructure regional director Douglas Ackerman.
He highlights the importance of three-dimensional (3D) laser modelling technology in two of the projects in which the company is involved –the Fourways Mall expansion project and at a large power plant project.
Ackerman mentions that there are three main types of laser scanning and modelling variants that are used during construction projects –mobile, terrestrial and aerial scanning.
"Mobile laser scanning entails the laser unit being mounted onto a vehicle, terrestrial scanning entails the scanning unit being mounted onto a tripod stand and in aerial scanning the unit is affixed to a fixed wing aircraft or helicopter."
He explains that for the Fourways Mall expansion, terrestrial scanning was used for the project as the retrofit project required that an existing building be extended into the new development. The expansion project is set to be one of the largest retail developments in the southern hemisphere at over 180 000 m² lettable area when completed Ackerman says.
"The scanning provides a very large data-set of 3D points that are called a cloud point. This data then undergoes a process called feature extraction which provides a 3D geometry that is more practical to work with than millions of scanned points.
Further, registered quantity surveyors who have the credentials to take responsibility for the laser scan results and take liability for what the scans depict, aid in ensuring that results align with geospatial systems and that everything is in the right position and scale.
The company uses 3D geometry from laser scans together with Building Information Modelling software to generate optimal designs that are true to context.
"The models derived from laser scans capture every single detail of the existing building and its environment enabling WSP to do design work in context of a true-to-life model," notes Ackerman.
At the large power plant project that the company is involved with WSP|Parsons Brinckerhoff has an onsite team that uses terrestrial laser scanning to verify all the as-built structural, mechanical and electrical installations.
"It would have been a monumental challenge to complete that task by using manual methods to measure up such complex geometries states Ackerman.
He adds that the laser technology is key in compiling and completing the as-built documentation that indicates what has been built, for the owners and constructors of the project.
"By accurately scanning the construction of the project, we can pinpoint what has been built and whether it has been built within the design tolerance. This makes laser scanning an ideal verification tool."
The technology enables architects, engineers and quantity surveyors to effectively dispute or approve what has been built based on assessment of the laser scans, he reiterates.