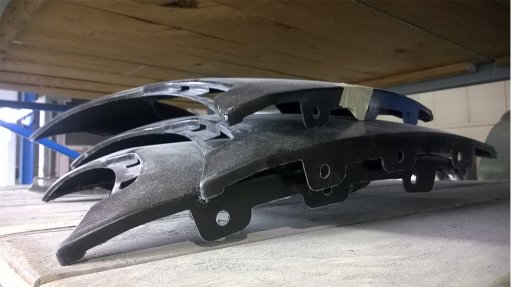 LIGHTWEIGHT DESIGN The composite parts are made using laminate construction of advanced carbon weave-epoxy material
Western Cape-based aircraft and automotive composites products manufacturer AAT Composites is ramping up production of several automotive component composite parts for a UK-based, high-end automotive manufacturer.
AAT Composites, which was awarded a contract of undisclosed value in April, will increase the production output of composite parts for about ten cars to more than 25 cars a week, says company MD Dr Holger Friehmelt.
"The company is manufacturing about five parts for every car, which amounts to about 2 500 parts a month," he says, pointing out that production will continue for at least the next two years.
The parts that will be supplied to the automotive manufacturer include structural composites, such as floors, bonnets, spoilers and wheel arches. These parts are made in autoclaves using laminate construction of advanced carbon weave-epoxy material. Carbon fibre is used to meet the strength requirements of the components.
The key capabilities of AAT Composites, which employs an AS/EN 9100- and IS0 9001-accredited quality management system, include the high-volume manufacture of sophisticated composite parts, with a moulding capacity of more than 3 000 mouldings a week in epoxy and phenolic composite prepreg.
The composites manufacturer also has another four contracts for UK-based, high-end and high-speed automotive manufacturers.
"The attractiveness of being a supplier to the automotive industry lies in the industry's need to secure long-term supply contracts and sustainable production volumes. This provides a good planning horizon for businesses in terms of sustainability," says Friehmelt.
Further, AAT Composites has increased the training and skills development of staff to ensure that the new designs and quality requirements of the automotive composite components are met and to enhance the manufacturing and supply capability of these new composite designs, he adds, reiterating the company's focus on quality improvement through continuous staff training.
The company also invested in new machining and manufacturing technology, valued at about R20-million, earlier this year, to increase the speed of manufacturing and its competitiveness in the industry, particularly in the global aerospace industry. The investment included a Hytec thermal press and a Belotti five-axis computer numerically controlled machine.
Mass Production
Friehmelt acknowledges that mass automotive manufacturers do not consider using composite parts to reduce the weight and increase the speed of an automotive vehicle, as they are currently too expensive. However, he believes this could change, with significant potential for composites in the long term.
"The importance of increased lightweight, fuel-efficient vehicles will become more significant – using composites will, therefore, be increasingly noteworthy for mainstream cars," he says. Composites will also apply to vehicles functioning on alternative fuel propulsion such as electric or compressed-air propulsion.
Friehmelt further highlights the continuous advancement of composite materials, such as resins, which have key safety improvements, such as fire resistance. This improvement enhances the properties of carbon fibre, he says, pointing out that raw composite materials have also become more environment friendly, with a focus on recycling carbon composites.
Additionally, more raw materials suppliers are entering the market, resulting in competitive pricing, which provides manufacturers with more diverse options in the supply chain, Friehmelt avers, reiterating the need for companies to maintain competitiveness in the global market.
"As a result of the influx of new industry players and emerging markets, local companies need to focus on efficiency, particularly in production and through power use, to maintain a competitive advantage," he concludes.