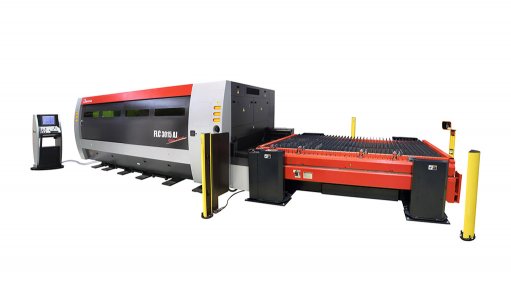 FAST, PRECISE AND EFFICIENT The Amada range of fiber laser cutting technology is the most economical machine solution available in the midrange segment
Laser manufacturer and sheet-cutting solutions provider Amada is offering its fiber laser cutting machines, designed from a combination of the Co2 series and the com- pany's in-house fiber laser tech- nology to the global market.
"The fiber laser cutting mac- hines not only set a new standard in terms of speed and precision but are also the most economical machine solution available in the midrange laser segment," says Amada sales manager Barry Page.
The Japan-based company, which has sales offices in Meadowdale – Gauteng, Cape Town and Durban – offers its laser cutting machines in either a 2 kW or 4 kW fiber laser output option, which allows for significant machining speeds while simultaneously achieving high precision results.
Using high-speed, noncontact sensor technology in the laser cutting machines ensures not only new standards in terms of speed and precision but also ensures that the laser beam remains focused on the sheet during processing.

Owing to a shorter wavelength being used by the fiber systems, materials that were previously considered too difficult to cut, such as copper and brass, can now be cut with ease, while thinner ferrous materials can be processed at much higher-cutting speeds, compared with using conventional Co2 systems, says Page.
He adds that excellent energy consumption and shortened manufacturing times ensure considerable cost savings while preserving resources.
Amada's fiber-cutting range also incorporates a combination of high-performance control technology and highly active drive systems that guarantee cutting accuracy and optimum quality.
"Elimination of beam path mirrors and the use of a fiber-optic cable transfer methods drastically reduces costs on the mirror maintenance and replacement, explains Page.
He tells Engineering News that the fiber laser beam in the fiber laser cutting machines is generated from diodes – as opposed to laser gas used by Co2 systems, which eliminates using a turbo blower and tubes, subsequently resulting in significant addi- tional cost savings.
Page notes that, similar to the company's own FO series of laser cutters, the fiber laser cutting systems have a unique machine frame structure that has a low centre of gravity with no need for any special machine base required.
"Even at top speeds of machining, the distortion resistant, low-vibration cast machine bed guarantees that manufacturing operations are conducted in optimum conditions," he reiterates.
When used with the appropriate automation technology, the Amada fiber lasers are versatile enough to perform complex cutting tasks for long periods of time without the need for manual intervention.

Further, the versatile machine layouts offer a common working area of 3 000 mm × 1 500 mm and the tables can carry a sheet weight of up to 920 kg, which is easily managed by the operator, owing to the free roller-bearing system.
The layout can be adapted to meet the unique needs of the different users and permits the variable assembly of the machine components.
Page highlights that, as a result, the machine is compact, always provides optimum access and permits the shortest possible travel paths even during multimachine operation. Using the proven AMNC-PC control unit with the Amada AP100 programming and nesting software guarantees a high level of safety and ergonomic efficiency, he adds.
The fiber laser cutting systems offered include the ENSIS 3015 -AJ fiber Laser, LCG 3015 -AJ fiber Laser, FLC-AJ fiber Laser, and the FOL -AJ fiber.