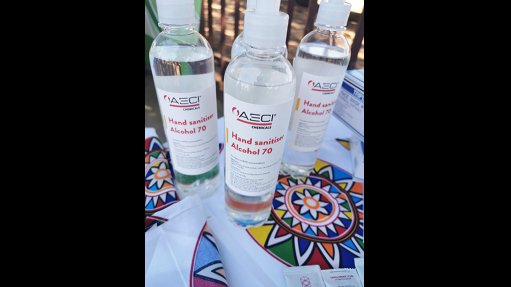 AECI range of sanitisers
A new range of special purpose cleaners locally manufactured according to World Health Organisation (WHO), US Centres for Disease Control (CDC) and Prevention and Environmental Protection Agency (EPA) guidelines has been developed and the capacity for large volumes has been made available as a matter of urgency.
The WHO recognises the effectiveness of the isopropyl (IPA) blend used by AECI to manufacture the liquid hand sanitiser and the EPA asserts that the IPA blend will eliminate Covid-19 in under 30 seconds, when applied correctly, while the CDC states that the blend will kill Covid-19 in under 60 seconds when applied correctly.
The AECI range includes:
Liquid hand sanitiser
Liquid hand soap
Surface disinfectant for buildings, floors and walls, as well as equipment, pathways and roads
Cabin wiping liquid for buses, cars and taxis
A variety of pack sizes, including 25 l, 200 l and 1 000 l units are available for bulk order or smaller orders on request.
The company asserts that its range is manufactured using the correct grade, purity and type of ingredients, such as alcohols and additives, required to ensure the minimum dwelling time to kill Covid-19 and safeguard hands and skin. It also further emphasises that a number of existing liquid hand sanitisers are currently manufactured using either industrial grades of ethanol or n-Propanol, which may contain harmful impurities and are not recognised by the WHO as an effective means of combatting Covid-19.
The AECI liquid hand sanitiser is currently used by the company's 5 065 employees in South Africa, both in the home and in the workplace, and by a number of leading mining companies. The IPA blend is also being manufactured by AECI Schirm in Germany for use by government in that country.