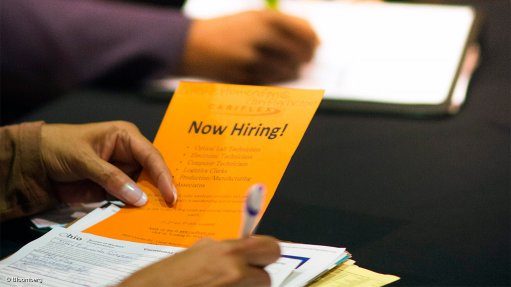 Photo by: Bloomberg
South Africa's job seekers are most likely to find opportunities in the country's electricity, gas and water supply and wholesale and retail trade sectors, while the mining and quarrying sector will have the lowest number of opportunities, workforce solutions provider Manpower South Africa points out in its Employment Outlook Survey for the fourth quarter.
Local employers reported conservative hiring intentions for the October to December period, with only 13% of employers forecasting an increase in staffing levels, 7% anticipating a decrease and 78% expecting no change.
"Some of the country's main industries have recently been affected by a large number of retrenchments, which has resulted in decreased employee and business confidence. Paired with the falling rand value and the continued uncertainty in power availability, the current business climate is not attractive to foreign investors, resulting in muted economic growth.
"Mixed business signals make it difficult for employers to commit to actively recruiting new candidates, hence hiring intentions have remained positive, but relatively stable in comparison to the prior quarter or last year at this time," Manpower MD Lyndy van den Barselaar said in a statement.
Meanwhile, the survey found that payrolls were forecast to grow in Gauteng, KwaZulu-Natal, the Eastern Cape, the Free State and the Western Cape during the fourth quarter, with the strongest hiring pace anticipated by Western Cape employers, who reported an increase in the net employment outlook of 12%.
"The City of Cape Town is a popular tourist destination, particularly in the summer months towards the last quarter of the year. Increased tourism will not only create temporary employment for many job seekers, but will also contribute positively to the economy of Western Cape," Van den Barselaar explained.
Employers also reported encouraging signs for job seekers in the Eastern Cape and Gauteng, where outlooks increased 7%, while outlook increases of 4% and 3% were reported in KwaZulu-Natal and Free State, respectively.
Hiring prospects strengthened by three percentage points in Free State when compared with the previous quarter, while remaining relatively stable in Western Cape.
Year-on-year, the outlook for Eastern Cape climbed six percentage points.
Employers in nine of the ten surveyed industry sectors forecast payroll gains in the next three months, with the strongest labour market anticipated in the electricity, gas and water supply sector, where the net employment outlook stood at 16%.
"As the current energy crisis continues to affect South African home and business owners, the number of people and businesses investing in alternative energy sources – such as gas, solar and generators – continues to increase. This translates into opportunities for those businesses and individuals that possess skills in manufacturing, installing, maintaining and repairing alternative energy sources. Reports of impending water shortages across the country are also fueling growth within the water supply sector," Van den Barselaar highlighted.
Wholesale and retail trade sector employers expected a steady hiring pace, reporting an outlook of 14%, while the outlook for the agriculture, hunting, forestry and fishing sector increased 13%.
Employers in the construction sector and the transport, storage and communication sector reported "cautiously optimistic" hiring plans, with outlooks increasing by 9%. Meanwhile, mining and quarrying sector employers anticipated a decline in staffing levels of 4%.