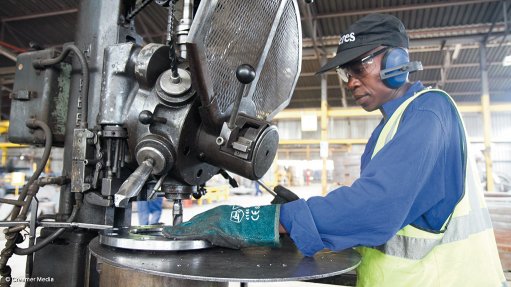 EQUIPMENT MAINTENANCE The success of asset management lies in coaching and training of artisans
Photo by: Duane Daws
An intentional shift towards proactive asset management is one of the ways in which companies can prepare for the future, as this apporoach offers an alternative to the current reactive asset-management practices that are not effective within a stressed economic environment.
Multidiscipline asset management consultancy IHA Technology and Alusani Skills & Training Network course leader Allan Tarita believes that operations functioning according to an 'all cost' mentality, thereby focusing on production targets at the expense of resources and assets, such as equipment and staff, will never survive. This is because they are competing with profitability-focused companies that have a more holistic approach to profit that encompasses diligent asset management.
Tarita, therefore, believes that a new commitment towards standards and procedure-based management as well as their associated practices is the only hope for companies that aspire to withstand the pressures of competition, establish foundations of business practices and engage their workforces to consider not only the current situation, but also plan for the future.
"Within the realm of asset management, our failure to establish the necessary procedures for our practices is impacting significantly on our assets and maintenance workforces. This is also impacting on those who should be managing and coaching artisans to a higher level of skill and confidence," he tells Engineering News.
The proper care of a company's equipment can improve equipment performance, ensuring proper asset maintenance.
Tarita advises managers and leaders not to aim only for the narrow target of profitability, as this thinking leads to a deviation from effective asset-management practices, such as operations and increased return-on-investment, from maintenance expenditure, reduced preventive costs, and increased return on investment, which should be dominating the daily decisions of managers to ultimately alter maintenance from being a cost centre to a profit centre.
Meanwhile, he highlights that the retirement of the baby-boomer generation, who inherited basic mechanical skills that included working with smaller equipment in the form of lawnmowers and other small engines, necessitates the need for practical mechanical education for the current generation whose functional foundations lie in information technology.
Tarita further notes that, when it comes to training and the development of maintenance procedures, organisations must strive for continuous improvement and overcome the current challenges that middle management faces, which sees them caught in the mentality of being so reactive in terms of asset management. As such, they abandon the coaching and training of aspiring artisan trained through formal apprenticeship programmes to maintain and care for equipment.
Third-party involvement of institutions that adhere to high engineering and maintenance standards is imperative, as firms can monitor and ensure the education and empowerment of young professionals, he concludes.