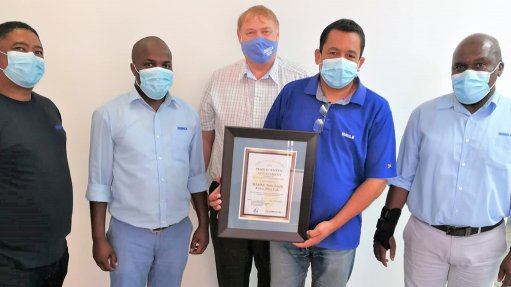 Mahle Behr has been recognised as one of Africa's top Kaizen performers at the Africa Kaizen Annual Conference (AKAC).
Mahle Behr was selected to represent South Africa after being crowned national automotive Kaizen champion, and competed against 22 other nominees from 13 African countries.
The local company was awarded a Prize for Kaizen Achievement by the Japan International Cooperation Agency and the African Union Development Agency.
The Eastern Cape-based, Tier 1 supplier to automotive manufacturers, received the Kaizen Achievement certificate in the small and medium-scale organisation category based on a submission which highlighted a 57% reduction in scrap.
The annual Africa Kaizen Awards are given to organisations that present prominent achievements in quality and productivity improvement, or 'Kaizen', and can serve as model cases to be shared in Africa.
The top achievers were Eleonetech, in Tunisia, which received the Outstanding Award in the large-scale category, and Multi-Service Material Industrial, in Cameroon, which claimed the Outstanding Award in the small and medium-scale category.
Natec Medical, of Mauritius, and Francis Alminium, in Ghana, received Excellent Awards.
Mahle Behr was one of 19 companies that was recognised with an Achievement Award.
"The annual national and then African awards not only recognise spectacular improvements and process created, but expose participants to global Kaizen best practice and encourage the implementation of Kaizen techniques to empower their employees to work smarter, rather than harder," says the Automotive Industry Development Centre Eastern Cape (AIDC EC).
One of the key adjudication points was evidence shown of teamwork between management and shopfloor employees to achieve better efficiencies and improved productivity, which is a hallmark of Kaizen and total productive management.
"The AIDC has been implementing Kaizen techniques/continuous improvement methodologies at different companies since its establishment in both Gauteng and the Eastern Cape, often in the context of cluster learning," says the AIDC EC.
"The principles of lean manufacturing are applicable across all manufacturing sectors and the AIDC EC, therefore, invites all manufacturing companies to engage us."

"Where many other manufacturing companies globally have a competitive advantage as a result of access and proximity to traditional markets, or to economies of scale created by sheer volumes, South African manufacturers have to develop other areas of competitiveness – a key aspect of which is operational efficiency."