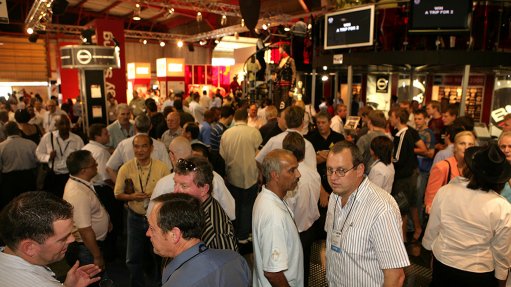 MAKING A COMEBACK The largest African trade exhibition of its kind will take place in May 2017
Exhibition organiser Specialised Exhibitions Montgomery last month announced the official launch of Machine Tools Africa 2017, an upcoming trade conference and exhibition that is expected to be the biggest Africa-based trade expo of its kind.
The exhibition will be held at the Johannesburg Expo Centre, in Nasrec, from May 9 to 12, 2017, in Halls 6 and 7, with the potential of expanding into additional halls.
It was launched in association with the Machine Tools Merchants' Association of South Africa (MTMA), and will showcase cutting-edge developments across the machine tools and machine tools-related industries.
The launch allowed for relevant Electra Mining Africa exhibitors, as well as MTMA members and affiliates, to be put into a draw to secure prime exhibition space at Machine Tools Africa.
Speaking at the launch, Specialised Exhibitions Montgomery MD Gary Corin explained that Machine Tools Africa used to be a standalone show that was held every four years, from 1977 to 1997, attracting about 12 000 visitors per show and reaching 15 000 m2 in size, which included large international pavilions for displays from countries such as the UK, Germany and Italy.
"Post 1997, however, the downturn in the market made a standalone show impossible and we agreed to not go ahead with a show in 2001," he noted, adding that, soon after that, the Machine Tools trade show became an auxiliary feature of Electra Mining Africa.
"[The relevant parties] agreed that Machine Tools Africa would be presented alongside Electra Mining Africa every four years from 2004 and that it would be officially endorsed by the MTMA.
"The show was well supported from 2004 to 2012 and it would have been due to co-locate again in 2016, but after lengthy discussions, all parties agreed the market was strong enough to support a standalone show again," he explained.
Last month, Corin told Engineering News that these discussions started around September last year, during Electra Mining Africa 2014.
He added that Specialised Exhibitions Montgomery held discussions with various exhibitors in Hall 9 and that further exhibitor feedback after the show indicated that there was an interest in hosting a standalone show. MTMA and Specialised Exhibitions Montgomery made the final decision after a visit to the Expo Centre site in June this year.
Corin explained that several factors prompted this decision, especially the fact that Electra Mining Africa no longer offers enough space to accommodate the growing machine tools market. Having a separate Machine Tools Exhibition will also attract a wider audience of machine tools users than the relatively focused marketing audience it attracted while co-located with Electra Mining Africa.
Specialised Exhibitions Montgomery and MTMA believed that a dedicated show with additional space would allow not only for participation across the many associated machine tools industries, but also the showcasing of industry-relevant content through technical seminars and new technology by country pavilions.
At the launch of the expo, MTMA chairperson Hans-Peter Neth said the association was fully committed to ensuring an industry showcase that was inclusive and reflective of the South African machine tools market.
"Quality tools and machinery are the backbone of the South African manufacturing industry. This important sector will take centre stage at Machine Tools Africa 2017, with all the latest innovations, products, services, technologies, trends and developments in machinery, tools, spares and technical support.
"We are planning to run the show every three years, which matches the general cycle of new machinery and equipment [being introduced] to market," he explained.
Corin added that the three-year lead time would give potential exhibitors sufficient time to plan for the technical aspects of exhibiting at this type of trade show, as well as the financial investment it required.
Manufacturers and suppliers will showcase a broad range of machinery, equipment, products and services involved in the machine tools cycle.
Robotics, mechatronics, automation hardware and software, additive manufacturing technologies, assembly and quality control, as well as systems for safety and environmental protection, will also be highlighted.
At the launch Corin stated that Specialised Exhibitions Montgomery would provide a full exhibition service support structure, including operations, logistics, marketing and sales support. He added that the cost of the exhibition support would be included in exhibition costs.
"It is important for [MTMA] to support this exhibition. Not only does it provide a platform where we can demonstrate our strength as an association but it also ensures that buyers know that purchasing a machine from [its] members means peace of mind. All MTMA members subscribe to a strict code of ethics designed to protect buyers," Neth concluded.
Entrance for trade visitors is free and the cost for nontraders is R50, with a series of free-to-attend technical seminars, held at Machine Tools Africa 2017, to enhance visitor experience.