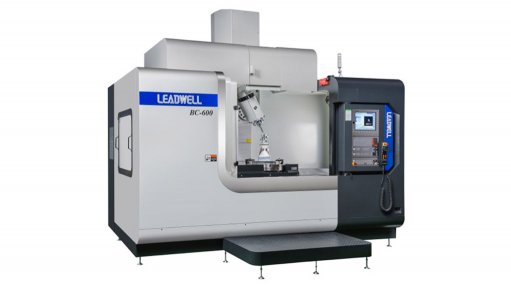 RECENT RELEASE The Leadwell BC-600 5-axis Long Table Machining, is available in 3+2 and 5-axis simultaneous configurations
Machine tool and metrology equipment supplier WD Hearn will exclusively distribute and service coordinated measuring machines (CMM) from LK Metrology – formerly known as Nikon Metrology.
WD Hearn has also been appointed sole agent in South Africa by computer numerically controlled (CNC) machine tool and cutter grinding manufacturer ANCA CNC Machines.
Supplying these two international brands will augment WD Hearn's portfolio, as it currently imports, sells and installs machines nationally. WD Hearn can also commission the ANCA CNC Machines and train employees on any machine it supplies at the client's factory, as well as offer full after-sales support.
Although LK Metrology does not supply machine tools as such, the Nikon Altera10.7.6 multisensor ready measuring technology has significant uses in general manufacturing facilities, where the call for quality inspection is growing yearly. The technology optimises CMM in various applications, such as machined and pressed parts, casting and forgings, as well as plastic mouldings.
Further, ANCA CNC Machines' product will not be supplied en masse to the South African market, instead new developments in tool and cutter grinding will be offered. This will open new doors in a rather niche sector. ANCA is known for the flexibility of its tool design software and machines, which enable the user to produce a variety of complex tools, including grinding end mills, profile cutters, burrs and punches.
"Our strengths lie in toolrooms, mould and die shops, the automotive and specialised aerospace sectors, as well as mining and railway applications," says WD Hearn sales director Graeme Cooper.
He adds that there are huge developments in the industry, mainly in terms of the speeds, feeds and multi-axis configurations of CNC machines. Essentially, the metal-cutting principles remain the same and the machine tool cuts metal in the same way as it did 50 years ago.
"Everything is now more automated and easier to program and quicker to use on the CNC, which is graphically orientated. This makes the process much simpler than it was 10 years ago because of the conversational styles of programming."
He says that human machine interface of the various machine builders and control builders are becoming much easier to use. This makes the technology more accessible to companies that traditionally did not specialise in metal cutting.
"Another big development has to do with the motors and drives that are being supplied with CNC machines. Everything is faster, stronger and bigger, with quicker movements in the CNC machines making the cutting of metal that much quicker, and turnaround times and accuracy of parts that much better.
"
Moreover, the growing demand for CNC programmers, operators and setters also brings with it a high demand for qualified training, incorporating solutions that will quickly prepare trainees for the modern-day machining environment.
Consequently, a high-tech training room that specialises in CNC programming training has been installed at WD Hearn's Cape Town branch. The facility is equipped with technology from Germany-based Siemens Sinutrain for training on all Siemens control systems. WD Hearn also offers courses in milling software supplier Edgecam's computer-aided design CAM soft- ware, as well as in custom solutions provider Fanuc training.