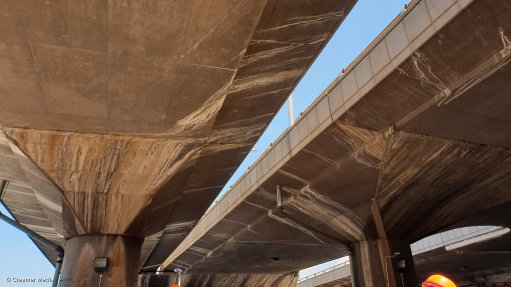 Damages to the underside of the Selby section of the M2 bridge
Photo by: Simone Liedtke
The Johannesburg Roads Agency (JRA) will be closing the M2 motorway between the Crown interchange and Martizburg street to allow for bridge rehabilitation to resume.
The road closure will be in effect from 06:00 on February 28 until the end of October. Work on both carriageways is expected to be completed at about the same time.
This follows after Johannesburg Mayor Herman Mashaba raised concerns about the stability of the Kaserne and Selby sections of the M2 bridge, which poses a danger to road users as a result of required maintenance repairs.
The damage, he explained to media on Monday, comes as a result of a lack of maintenance over the years, as well as a considerable increase in road traffic since the bridge's construction.
In terms of diversions and alternative roads, the mayor said appropriate signage would be in place by next week, and that the Johannesburg Metro Police Department would assist in traffic management until the project's completion later this year.
The city has previously revealed that 78% of its bridges are in a bad condition and need urgent rehabilitation. An estimated R6.5-billion is needed to refurbish and rehabilitate all bridges in the city.