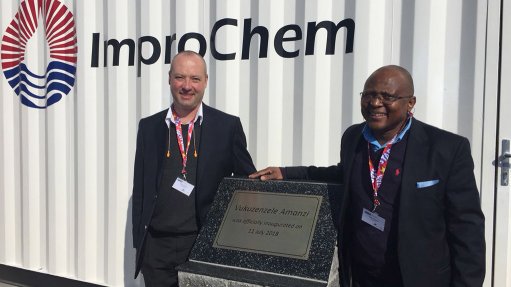 ImproChem MD Graham Sanders and ImproChem engineered solutions executive director Sepadi Mohlabeng
Wednesday marked the official launch of two desalination plants that were designed, installed and commissioned by JSE-listed AECI Water and Process subsidiary ImproChem at fish products company Lucky Star's cannery and fishmeal operations on the West Coast.
The desalination plants at Lucky Star's fishmeal operations at St Helena Bay and Laaiplek have produced more than 50-million litres of water since their start-up at the end of April, said ImproChem engineered solutions executive director Sepadi Mohlabeng.
The 36 m3/h containerised desalination plant at St Helena Bay, comprising ten reverse osmosis (RO) vessels and 70 RO membranes, can produce 864 000 ℓ/d of water.
The 26 m3/h Laaiplek desalination plant, or Amawandle Pelagic, has seven RO vessels and 49 RO membranes. The plant has the capacity to produce 624 000 ℓ/d of water.
Both ImproChem-operated plants source sea water (feed water) from beach wells. The St Helena Bay plant's beach well provides a feed water flow rate of 89 m3. Amawandle Pelagic's beach well has a feed water flow rate of 56 m3.
Energy recovery devices are deployed in the design to use the high brine solution pressure to drive the desalination skid booster pump.
The commissioning of the Lucky Star plants, which were completed in less than 60 days, has relieved the canned fish producer's water-intensive operations of their dependence on the West Coast district municipality's water supply.
Water restrictions, implemented this year, are still in place in the Western Cape and will remain in place until dam levels reach more than 85% as a collective average. Dam levels were at 53.05% as of July 9.
The quality of the water produced by the Lucky Star plants will conform to the South African National Standard (SANS 241-1:2015) as a minimum requirement for potable water. Quality will be monitored continuously by the online plant instrumentation, as well as ImproChem's quality management system.
The launch of the Lucky Star desalination plants follows ImproChem's successful completion of a water-treatment plant, capable of delivering 1.15-million litres of potable water a day, at Sea Harvest's internationally accredited Saldanha fresh fish processing factories. That plant was launched in March.