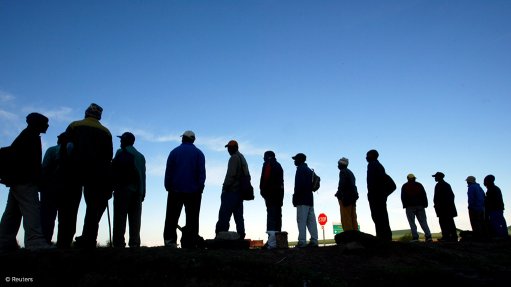 Photo by: Reuters
Independent organisation the Inclusive Society Institute (ISI) has released a new report showing the correlation between lower population growth levels and reduced unemployment levels.
ISI CEO Daryl Swanepoel warned that it was evident that should the population grow at a pace greater than the number of new jobs in the economy, unemployment will rise.
The official unemployment rate stood at 30.1% at the end of the first quarter of 2020 and declined to 23.3% during the second quarter of 2020, which he explained was because of the increase in the expanded unemployment rate, which rose by 2.3 percentage points compared to the first quarter of 2020.
This was owing to a large increase in the number of people available for work and who are no longer actively looking for work. In terms of the expanded definition of unemployment, the rate soared from 39.7% to 42%.
Swanepoel further explained that between 2011 and 2019 South African's population grew by an average of 1.65%, which translates to 898 000 people a year. On average, there are also 600 000 new entrants into the labour market each year.
He went on to reveal that the average number of jobs created during 2011 to 2019 averaged about 278 222, resulting in new jobs being created for only around half of the new entrants into the labour market.
The ISI report considers three gross domestic product (GDP) growth scenarios – 2%, 3%, and 4% sustained over a ten-year period – the findings of which are worrying, says Swanepoel.
There are currently 2.56 workers on average for every available job in the country and according to the ISI report if the current population growth trend of 1.48% per annum (based on the last five years) is not tackled, unemployment will remain stubbornly high under all three scenarios.
"At a sustained 2% GDP growth, the number of workers per job will only reduce marginally to around 2.51 workers per available job. At 3% it will come down to 2.3 workers per available job, and at 4%, 2.12 workers per available job. That means that should South Africa not be able to sustain a GDP growth of 2% or more, unemployment will continue to grow. Bear in mind that the average GDP growth over the ten-year period 2009 to 2018 averaged a mere 1.5%," Swanepoel pointed out.
He added that there was concern about the extreme unemployment rate among people aged 15 to 24 years, which stood at 55.97% in 2020.
He suggested that reducing population growth in middle income countries, seemed beneficial mainly to young workers.
Empirical evidence confirms the link between population growth and the economy's ability to generate sufficient jobs, benefiting workers of ages between 15 and 19 years old, he said.
Changing population reproductive behaviour will need a national campaign and is a long-term effort, that will face cultural and religious challenges, ISI says.
"That said, avoiding the issue will be at the country's peril, in that it will serve only to prolong and deepen the economic defects. If left unaddressed, it could very well push the economy over the proverbial fiscal cliff. Any future economic recovery plan will have to place equal importance on the reduction of the population growth rate, as it does on interventions to spur GDP growth. The two concepts are tied at the umbilical cord," Swanepoel ended.
To read the full report, click here.