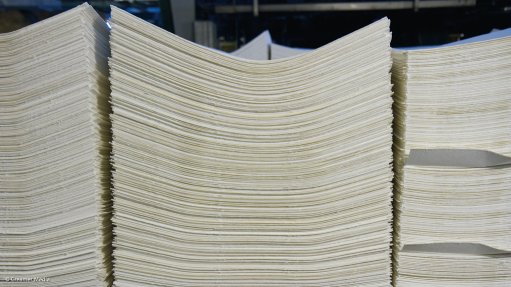 Photo by: Creamer Media
JSE-listed paper and packaging manufacturer Sappi says a further fall in the dissolving pulp (DP) price, by $233/t in the last 12 months, had negatively impacted on the company's earnings and profitability in the quarter ended March 31.
CEO Steve Binnie explains that a strong packaging and specialities performance, along with solid results in the graphics paper segment, was not enough to offset the significant impact of historically low DP prices, as well as lower DP sales volumes.
Consequently, Sappi generated earnings before interest, taxes, depreciation and amortisation (Ebitda) of $131-million for the quarter ended March 31, compared with the $187-million Ebitda generated in the quarter ended March 31, 2019.
Profit for the quarter under review declined to $2-million, compared with a profit of $72-million reported in the prior corresponding quarter, primarily as a result of the lower Ebitda, as well as restructuring provisions and asset impairments related to the proposed closure of the company's Paper Mill 2 at the Stockstadt mill, in Germany, which was announced earlier in the quarter.
Binnie says that, in terms of Covid-19 impacts on the business, there was minimal disruption to the company's operations in the last few weeks of March, while the majority of mills were allowed to continue operating during the South African lockdown.
However, the company has seen a decline in orders in graphic paper and DP.
"Towards the end of the quarter under review, we began to receive significant cancellations of DP and graphic paper orders scheduled to be delivered in the third quarter, and new orders for both product categories slowed considerably."
Binnie further explains that Sappi's strategy to diversify its product portfolio into higher-margin segments and position the company for future growth reaped rewards as the packaging and specialities segment continued to grow profitability, despite slow containerboard demand in South Africa.
"Improved product mix and machine efficiencies, coupled with lower input costs and increased sales volumes in Europe and North America, contributed positively [to the quarter's performance].
"The ramp-up of Somerset Paper Mill 1 and Maastricht on paperboard grades further assisted us to significantly reduce commercial downtime compared to the prior year," he adds.
Strong customer relationships and service levels, along with a focus on efficiencies and costs enabled the company to make significant market share gains in its graphics paper business and, as a result, helped maintain profitability in this segment, despite weak market conditions.
Binnie notes that the fall in DP market prices by $233/t in the last 12 months was owing to soft global textile markets, US duties on textiles from China, excess viscose staple fibre capacity and a weaker dollar/renminbi exchange rate.
On the supply side, low paper pulp prices provided limited relief for swing producers; however, some Chinese producers swung production to various grades of paper pulp.
"This decline in DP market prices significantly impacted both the segment and group profitability levels. The incorporation of the high-yield pulp sales from the Matane Mill acquisition in the segment boosted year-on-year volume sales, but lowered the average realised selling prices.
"Selling prices for this high yield pulp did not decline as much as kraft pulp in the past year but remain at depressed levels," Binnie notes.
The company's earnings a share were $0.04 apiece in the reporting quarter, which was lower than the $0.13 earnings a share reported for the prior corresponding quarter.
Sappi has cash on hand of $268-million and $642-million in undrawn facilities to help weather Covid-19-related economic and market impacts. The company managed to suspend its debt repayment obligations to 2021.
Binnie says one positive to come out of Covid-19 is increased demand for food and hygiene packaging, which continued past the quarter under review to date, while demand for fruit packaging (containerboard) also continues to increase.
He says the company will not be providing a profit forecast, owing to the uncertainty around what the impact of Covid-19 will be on the business in the current and coming quarters.
However, Binnie says it is likely that DP demand will remain low, as well as demand for graphic paper.
Sappi has implemented various cost-saving measures, including curtailing excess production.
"We will reduce DP production at each of our sites, as a response and to mitigate impact on profitability."