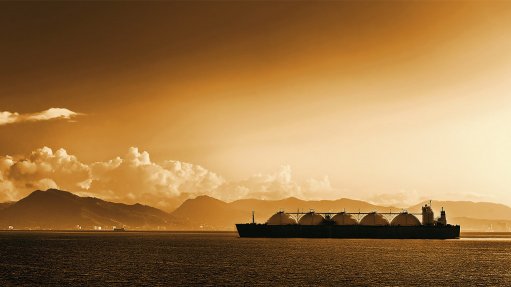 GAS CEILING Given the increased LNG exploration in Africa, more acquisition transactions are expected to occur. This will consolidate the African LNG market, bolstering growth and production
A decrease in oil demand and, consequently, in prices last year because of Covid-19 also resulted in lower prices for liquefied natural gas (LNG). Business research consultancy Birguid associate researcher Patience Panashe argues that LNG buyers can take advantage of this to import LNG into South Africa at lower prices.
"Inexpensive oil could have a dampening effect on all energy prices. LNG is a buyer's market currently, especially with a glut of LNG on the market."
This LNG can be used to support the South African government's intention to expand the local LNG industry, which is reflected in the country's Integrated Resource Plan (IRP) 2019, Panashe notes.
The draft IRP 2018 envisaged the development of an additional 8 100 MW of gas-fired generation capacity by 2030, but this capacity was reduced to 3 000 MW in the IRP 2019, with an allocation of 1 000 MW in 2023 and 2 000 MW in 2027.
Further, Panashe highlights that the lead times on the many gas-to-power programmes have been adjusted. These have been adjusted based on the availability of gas resources in the short to medium term, as well as locational issues such as ports, the environment and transmission.
"The IRP 2019 states that this lack of gas resources represents low gas use, which will likely not justify the development of new gas infrastructure and power plants predicated on such suboptimal volumes of gas."
She adds that, consequently, the development of LNG infrastructure will be supported.
Panashe points out that the immediate focus for LNG infrastructure is on the conversion of the diesel-powered emergency power plants, on the east coast of South Africa. Government considers this area to be the first location for gas import-infrastructure and associated gas-to-power plants.
"Availability of gas provides an opportunity to convert to combined-cycle gas turbine power plants, and run open-cycle gas turbine plants at the Ankerlig, Gourikwa, Avon and Dedisa power plants."
Another significant LNG infrastructure development is natural gas producer Renergen's signing a deal with energy company Total, under which Total will rebrand two of its filling stations on the N3 between Johannesburg and Durban as LNG outlets.
The LNG sold at these stations would be for the exclusive use of trucks and buses, and will reportedly cost 15 c/𝓵 to 25 c/𝓵 less than diesel.
The first phase of the project is planned to supply 400 trucks from 2021, while the second phase will supply about 3 000 to 5 000 trucks from 2023.
"Companies – such as Renergen – participating in the LNG value chain will result in the development of LNG solutions that are environment-friendly and tailored for African needs. The customer base for LNG will predominantly be logistics companies operating trucks, as LNG displaces diesel use."
Market Consolidation
Amid exploration activity in the LNG sector in Africa, Panashe expects more acquisition transactions to occur in the sector, resulting in a consolidation of the African LNG market.
"Consolidation programmes are aimed at catalysing growth and bolstering production in the industry. Many large gas producers with balanced budgets are looking to increase their reach at scale through tactical moves that enable them to net more acreage in high-yielding territory."
Simultaneously, smaller organisations with experience and drilling inventory are, however, aiming to scale up through acquisition, she points out.
This setting provides large gas companies with an opportunity to acquire valuable assets in ideal locations, which require little investment, owing to low gas prices.
"We have seen African governments facilitating the ownership and operation of concessions with larger international firms. While monopolisation of the market will be difficult to avoid, it's important to note the strides being taken by African legislators to ensure that competition is fair, and there is access to the opportunity for smaller, locally based firms."
One element which could help to facilitate the consolidation of the African LNG market is the Africa Continental Free Trade Agreement (AfCFTA), which Panashe states could assist Africa in achieving its economic and sustainability goals through the development of LNG.
"If well developed, Africa's LNG finds will boost industrialisation, increase intraregional trade and generate jobs. It will also trigger a virtuous cycle with far-reaching effects on the availability of and access to energy, food security and the growth of the African economy," she stresses.
Panashe suggests that the collective participation of the public and private sectors could also prompt the import and export of technology, expertise and LNG feedstock between African countries, which are supported under the AfCFTA.
Africa's poor record of implementation could, however, impede the success of the AfCFTA. Panashe argues that the African Union has not invested as much time and resources as it should to focus on infrastructure development, which is a vital enabler for LNG trade.
"The AfCFTA can achieve the desired outcomes only if the focus is shifted from lengthy, painstaking policy development processes to speedier infrastructure development. Without any infrastructure changes, the AfCFTA will be just another agreement stifled by the implementation crisis prevalent in Africa," she concludes.