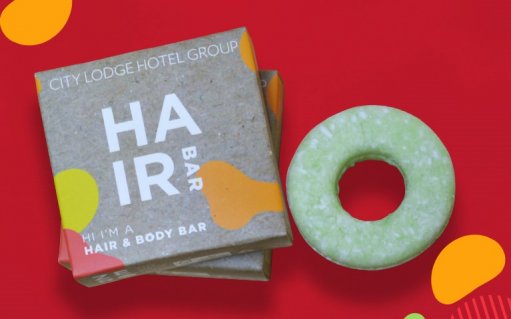 Hotel chain City Lodge Hotel Group (CLHG) is believed to be the first in South Africa to introduce a zero-plastics bathroom amenities range, which includes a hair and body bar and hand bar made using no water.
CLHG has already started using the new amenities in hotels that have finished their old stock, which would have happened sooner if Covid-19 had not forced the group to temporarily suspend services at some hotels.
However, the group expects its five hotel brands – Fairview Hotel, in Kenya; Courtyard Hotel; City Lodge Hotel; Town Lodge and Road Lodge – to be using the new amenities by September or October this year.
The range was developed by South African amenities manufacturer The Bespoke Amenities Company (TBAC).
TBAC and Zero Waste Bar founder and MD Bruce Turner had been working on various ideas over the past three years to address the issue of waste in the hospitality industry.
"The easy solution was the route of wall-mounted dispensers, but these come with hygiene risks and housekeeping challenges."
Subsequently, the company developed a solid shampoo bar concept, with the final product taking about two years to realise. The bar is made using no water, with a dollop of avocado and argan oil, to replace liquid shampoo and liquid body wash.
TBAC developed the product formula in-house, using locally sourced ingredients. Unfortunately, many of these ingredients are imported and produced by large global cosmetic chemicals suppliers, as there are very few ingredients manufactured locally.
Turner hopes this is something that will change in future, with TBAC focusing its attention on South Africa's abundance of extracts and oils that it can add to its products to benefit skin and hair.
All products in the range are packaged in Forest Stewardship Council-certified cardboard packaging that is completely recyclable, excluding the body cream, which is packaged in recyclable aluminium tube with a recycled plastic cap.
"City Lodge were the first client we took the concept to, as we enjoy a great relationship with them and they are always open to new ideas," says Turner.
CLHG GM of operations Andrea Anderson headed up the research and procurement process of the concept, which TBAC introduced to CLHG in about April last year.
The TBAC team faced a few challenges, cost being the most significant in terms of packaging and the products' formulation.
As CLHG has a significant number of hotels, this enabled TBAC to negotiate with local suppliers to achieve price points that worked for all parties.
"It has also allowed us to move all of our cardboard packaging to a local South African supplier as opposed to importing," states Turner.
The manufacturing process was also a challenge, with the company having to develop a new manufacturing process for the shampoo bar that does not use any of its existing equipment or production lines.
"For example, aluminium tubes are folded as opposed to sealed in the way plastic tubes are, so this required a different approach to finishing the product," explains Turner.
TBAC's production team and engineers created solutions to the manufacturing challenges that involved setting up a hands-on and manual process that would enable the company to meet CLGH requirements with minimal investment.
Twenty people are involved in the manufacturing process. The shampoo bars are blended, put through an extrusion process, and pressed out a single bar at a time on manual presses, following which they are left to dry for 24 hours before packing.
"The product was more important to us than the process. We really wanted to perfect the concept, and this required a hands-on manufacturing process. Our engineers are currently working on how to improve and scale the manufacturing process moving forward."
Meanwhile, Anderson was faced with the challenge of convincing everyone at CLHG, through extensive research, that shampoo in bar form is more effective and more beneficial for hair, as well as the environment, than liquid shampoo.
"It really took a lot of trialling to change that mindset, which involved giving samples to people to test. Costs were also an issue because the shampoo bars are not cheap, but overall, they are the correct way to go."
In the current Covid-19 market conditions, TBAC produces about 100 000 shampoo bars a month, with capacity being scaled up to 400 000 units by year-end.
TBAC believes the amenities range will become a significant part of its production capacity and expects it to grow from 5% to 25% of its capacity in the next 24 months.
"Sustainability is an issue that all consumers and companies will continue to need to address post-Covid-19 recovery," states Turner.
He adds that CLHG has taken a big step, early on, to drastically reduce their plastic waste, and simultaneously ensure a safe and hygienic solution for their guests.
While CLHG has a period of exclusivity on the product offering, it felt it made no sense to pioneer a sustainable solution that only it benefited from.
Therefore, if other hotels believe this product offering will work for them, the same solution will be available to them, but in a different format and design, highlights Turner.
"Working with TBAC on this project was the best experience. Their professionalism and patience with us were nothing short of amazing. It was a collaboration made in heaven," concludes Anderson.