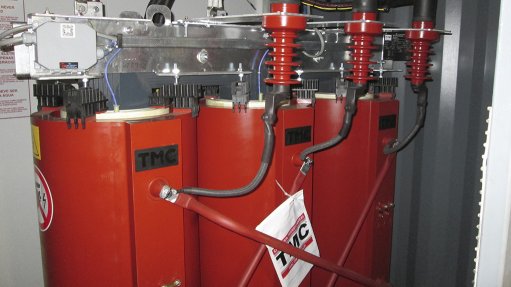 POWER TO PROJECTS Trafo Power Solutions will supply Area 1 of the Mozambique liquid natural gas project with 25 specialised dry-type transformers for use in a processing plant
Electrical equipment supplier Trafo Power Solutions, together with its partner, Italy-based transformer manufacturer TMC, has been selected to supply a liquefied natural gas (LNG) project off the coast of Cabo Delgado province, in Mozambique.
The companies partnered near the end of 2018 to boost access to dry-type transformer technology throughout sub-Saharan Africa.
Trafo Power Solutions' responsibility, in terms of the partnership, comprises the supply, application engineering and after-sales support for TMC's cast resin transformers.
Trafo Power Solutions MD David Claassen tells Engineering News that the contract involves Trafo's supplying 25 dry-type transformers to one of the project's construction camps, which will be fitted into 6-m-long modular, containerised substations.
Eighteen of these dry-type transformers have been delivered to site, with all of them due to be installed and commissioned before the end of the first quarter next year.
Additionally, Trafo Power Solutions will supply Area 1 of the LNG project with another 25 specialised dry-type transformers for use in a processing plant.Claassen explains that the specialised transformers are housed in IP 56-rated enclosures.
Some of these dry-type transformers are specified to operate in hazardous areas, with hazardous gas in the surrounds, which calls for a special transformer design to ensure that they comply with specific requirements related to Zone 2 hazardous areas.
The first batch of these transformers is due to be delivered to site by August 2021, with the final supply date expected in 2022.
Following the delivery of equipment to the LNG project, Trafo Power Solutions, alongside TMC, will assist the client in commissioning the transformers, and Trafo Power Solutions will subsequently provide after-sales support.
Claassen points out that dry-type transformers are near maintenance-free and safer, because air is used for cooling purposes, as opposed to traditionally oil-filled transformers that are cooled by oil, silicone or other liquid, which pose fire-hazard risks and are prone to leaks.
Since the transformer housing is designed and coated to keep out water and dust, dry-type transformers require only basic maintenance such as keeping nuts and bolts tightened, he adds.
Claassen points out that, in preparing equipment for delivery to site, Trafo Power Solutions and TMC considered the corrosive environment in which the specialised transformers will operate, as well as the high coastal ambient temperatures and high humidity levels in Mozambique.
Therefore, Trafo Power Solutions treated the metal work of the transformer enclosures with C5 paint to prevent damage caused by rust and corrosion.
The dry-type transformers are designed to have a low temperature rise compared with that of most other transformers. Claassen avers that even when they are fully loaded, their generated temperature remains low.
Meanwhile, being client-focused and – from a technical perspective – focusing on customisation gave Trafo Power Solutions and TMC the edge in the awarding of the contract, Claassen says.
TMC has more than 30 years' experience in designing and manufacturing cast resin transformers, while Trafo Power Solutions offers the distinct, geographic advantage of easy access to the Mozambique site, as well as most African countries, consequently offering quicker project turnaround, he explains.
Claassen believes there are more oil and gas opportunities for transformer supply contracts in West and East Africa, with Trafo Power Solutions exploring various opportunities for tendering. South Africa has not seen huge overall investment in the oil and gas sector for some time, he adds.
Although dry-type transformers are used in a variety of applications, including at mines, oil refineries, factories, hospitals, pumpstations and hotels, Claassen previously told Engineering News that the most significant area of growth has been new data centres, which run particular loads and have stringent safety requirements.
"We have the capability to source from TMC custom-designed and manufactured cast resin transformers that incorporate world-class technology.
"We also have experience in various industries and can respond to any environmental challenge," Claassen highlights, adding that this is particularly beneficial, considering Africa's exposure to extreme heat, dust and rain.
Claassen concludes that the company supplies dry-type transformers in the distribution power range of 50 kVA to 10 MVA, as well as up to 25 MVA, if required.