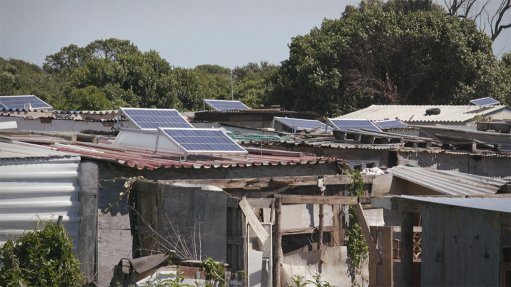 OFF THE GRID Microcare plans to share its local story of innovation, job creation and skills development next year during its 30th year of manufacturing in South Africa
Solar energy equipment supplier Microcare plans to share its local story of innovation, job creation and skills development next year during its thirtieth year of manufacturing in South Africa and aims to celebrate with product releases and support for even higher standards of solar equipment installation, says Microcare sales and marketing manager Gareth Burley.
This will take place alongside initiatives such as the solar photovoltaic (PV) GreenCard programme that was launched in May 2017, which focuses on education, skills development and training to build installer capacity for solar PV systems, and has been 'spearheaded' by the Western Cape government.
The programme was launched and developed by the South African Photovoltaic Industry Association in partnership with Germany-based solar association BSW-Solar, and multinational company the German International Cooperation.
The PV Greencard can be used as a built report for the owner of a solar PV system, and a checklist for the installer of the system, which installers can provide to clients once a project has been completed to declare compliance with relevant standards and safety guidelines for PV installation.
The PV GreenCard contains installation information such as the type of PV modules and inverters used, as well as a checklist of all the necessary installation steps that were completed.
"Part of our 30-year celebrations includes the product training for the sellers of our equipment, which we've always done, but our hope is that we can upskill and share our experiences and knowledge with our clients who buy from us to complement the PV GreenCard for competent installations that are regarded as industry credible," states Burley.
Electricity Woes
Burley highlights that, owing to the electricity supply problems in South Africa, alternative energy sources, such as solar generation and off-grid energy solutions into storage, will become more important.
"Even with solar panels in grid-tied systems and inverters, you still need a battery source. In a grid connected application, your battery source is State-owned power utility Eskom. You might be putting in the power, but if Eskom goes down, you don't have your battery and you don't have your power."
He also highlights that the problems with a lack of energy supply in the rest of Africa have led to increased demand for innovations regarding battery and energy technologies and, subsequently, the mining of certain resources such as lithium.
"Our future can't be that Eskom or the grid will grow stronger; our future has to be that we're improving our generating and storage capability. Energy efficiency and management is a part of that."
Looking to capitalise on this, Microcare aims to unveil new product ranges and services related to mini-grid systems in the first quarter of next year, says Burley. He adds that these products could potentially impact significantly on the domestic market and the way in which small businesses function.
The company has installed five mini-grid systems, one of which is a 90 kW, single-phase off-grid system in Zimbabwe.
"The off-grid system in Zimbabwe could be the largest single-phase off-grid system, maybe in the world. "The full launch of our mini-grid is next year, but what makes it innovative is the way in which the batteries are charged and how few of them you'd need."
Growth and Expansion
Microcare is very active in manufacturing and supplying electronic and solar components to energy-deficient regions in Africa, particularly in the Southern African Development Community region, including countries such as Zambia, Zimbabwe, Namibia and Botswana.
Burley states that considerable transport and raw material costs are the biggest threats to seeing local solar manufacturing competing against imported Chinese products.
"We've made wind turbine controllers for European countries and are manufacturing solar components for an American company. We're also involved with a project in Lebanon. These projects are all low-key, comprising about 5% of our work. About 20% of our current manufacturing is exported into Africa."
He points out that demand for energy mini-grids and off-grid solutions is increasing because of Africa's energy problems and, as the technology is becoming more available, affordable and local, solar PV and mini-grid systems are easier to install.
This has contributed to the company's growth in the market, which has, consequently, also prompted it to consider moving to new premises next year to allow for expanded production.
Burley recounts Microcare's starting as a small company that manufactured about 20 to 30 products a week in a small garage, before moving to a factory where about 100 products a week are manufactured.