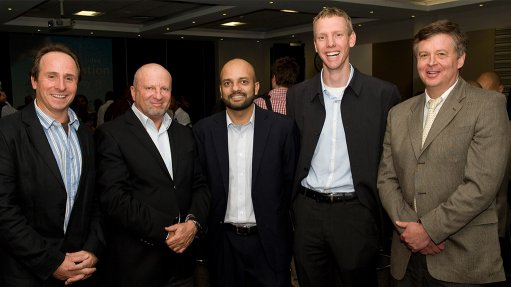 Individuals and small, medium- sized and microenterprises (SMMEs) aiming to fast-track the commercialisation of their technological innovations have until the end of the month to pitch their ideas to SMME development strategy specialist Traction for the Step-Up Technology Innovation Competition, aimed at assisting local innovators who seek the local and international networks, mentoring and funding required to launch a new development or innovation.
Sponsored by government's Technology Innovation Agency (TIA) and Sasol's enterprise development vehicle, Sasol ChemCity, the Step-Up competition is encouraging innovation in several sectors, including health and biotechnology, chemicals, mining and manufacturing, information and communication technology (ICT), food and agriculture, energy and green environment.
"The programme was developed by Traction in response to the TIA and Sasol's need to identify, enable and develop viable and scalable innovations," says Traction CEO and former Proudly South African CEO Martin Feinstein.
The collaborative programme aims to address the most relevant networking, business, financing and knowledge requirements of each finalist and, through this, Feinstein hopes to establish Step-Up as a yearly competition that will become a talent identification platform for South African innovation.
"Step-Up has pulled together the collective energy and resources of government, venture capitalists and incubators to steer early-stage initiatives up the value chain into sustainable production," he says.
The TIA and Sasol ChemCity will also evaluate entries for inclu- sion in their range of financial and nonfinancial support programmes, regardless of whether the entry is an initial idea or an existing innovation business. This is in addition to the prizes and other benefits associated with winning the competition.
"Sasol ChemCity focuses its business development and support activities on SMMEs, entrepreneurs and businesses that operate in the chemicals, energy and related industries," says Sasol ChemCity technology development and innovation manager Herman Berry.
"We believe that improving South Africa's innovation capabilities, coupled with the ability to commercialise technology-based businesses, is critical to our social and economic success as a country in the long term."
Finalists and winners of the competition stand to benefit from global introductions to business leaders through international partnership group the South African Business Link to Experts (Sable) Accelerator, which is dedicated to helping South African entrepreneurs, new venture start-ups, academic institutions and companies commercialise technology inno- vations, promote and protect intellectual property, fund new business concepts, finance growth and expand into global markets.
Meanwhile, the TIA deals with innovations that are unproven and in their early stages and, as such, face significant market-related, technical, regulatory and sometimes political hurdles before they can be successfully commercialised, says TIA COO Mkhululi Mazibuko.
"Industry, which recognises these risks and challenges, is generally averse to licensing technologies without proven commercial capability and market demand. The TIA, through its mandate, has a higher-risk appetite and it is this unique support that we bring to the Step-Up Technology Innovation Competition," he says.
Top achievers in the competition will be assessed for possible funding by venture capital and growth funding vehicles to alleviate the country's socioeconomic and environmental challenges. These include global and local heavyweights Hasso Plattner Ventures Africa, Impact Amplifier, Crowdinvest and Horizen Ventures.
With access to knowledge and networks, which are critical to grow innovation-based busi- nesses, Step-Up finalists and winners will share in the vibrant regional network building and mentorship capacity of enterprise development bodies, such as Enablis and the South African Innovation Network (SAINe), while those whose innovations require software development can enter into Microsoft's BizSpark developer programme.
The competition is open to early-stage innovators over the age of 16, who are working on projects or ideas with commercial potential. More established innovation-based SMMEs in need of financial or nonfinancial support to scale up have also been identified as potential candidates.
All entrants will receive up to four hours of high-value consulting time with selected Sable advisers and a three-month engagement with experienced and reputable industry mentors. In addition, in partnership with the SA Business and Technology Incubation Association, entrants who will benefit from incubation will be referred to appropriate incubators.
To date, Traction has received more than 650 entry registrations, mostly from individuals and businesses in the ICT field, with the age of entrants ranging from 16 to 71 years. At the time of publication, 58% of registered entries were raw ideas, with 23% of ideas in the development stages and 19% classified as existing innovations.
Feinstein tells Engineering News, however, that Traction has marketed the competition to tertiary institutions and incubators and, therefore, expects most of the entries to come from youth or young adults.
Entries close on September 30 and entrants must be South African citizens or foreign citizens with a valid work permit or study visa.
Once the deadline has passed, all entries will be evaluated in their specific industry sectors by an adjudicator who has a solid understanding of the industry.
"Thereafter, shortlisted finalists will be interviewed by a panel of expert judges to determine the winners, who will be announced at an event in December," says Feinstein.