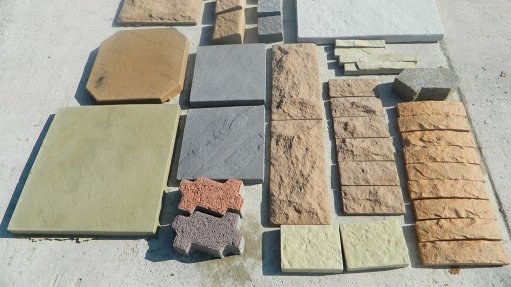 BUILDING MATERIALS The company is finalising a basic colour range for cement tiles
Local construction materials firm Amoriguard sustainably consumes recycled industrial waste to produce construction products and paints and, in certain applications, improve the performance of the products compared with conventionally produced products, says Amoriguard developer and founder Professor Mulalo Doyoyo.
The products are designed locally, and the paints were used to paint the new Mamelodi Mall, in Tshwane, as well as several developments in the Western Cape. The products do not contain hazardous chemicals such as formaldehyde, ammonia or volatile organic compounds.
The products are suitable for use in high-end developments because of their high performance, but are also suitable for social housing and development projects, as a result of their durability and ease of application.
Maximising the waste incorporated in each formula while remaining cost competitive were critical elements during formulation and all the paints have notably higher solids and dry film thickness than industry norms, requiring fewer coats to achieve the desired surface and performance.
"We recognise the need to get rid of industrial waste and continue to develop new products to reuse these wastes, including paints and products for decorative concrete surfaces," says Doyoyo.
The reuse of the industrial waste complies with international waste management protocols, and certain of the company's current products have been certified by building materials standards body Agrément, he says.
Amoriguard co-developer, technical director and paint chemist Ryan Purchase explains that developers operating in the Gap housing market have been positive about the paints and recognise the benefits and advantages of using them. Several are busy on existing contracts, but have committed to trying or using Amoriguard on their next projects.
"This market is large in South Africa. We aim to select a few developers and build partnerships with them to grow the brand," he says.
The current products are focused on painting, waterproofing and decorating buildings.
The Amoriguard business concept involves replacing significant percentages of traditional paint raw materials with various recycled materials to produce coatings that have performance properties as good as, or better than, traditional coatings in the market, he explains.
"All the recycled materials that we use are processed wastes, which means third parties refine or process the raw waste to ensure consistent products with very low batch variance."
Doyoyo says there is potential to establish production plants in new areas, including in other African countries where there are suitable waste resources, which can help to use their waste.
"The need for additional production sites closer to the waste sources was first identified during the early stages of development. We need to firmly establish the products in the market and refine the production processes before we can consider making [them] elsewhere. Once this is achieved, we will look at other production sites to reduce our costs," says Purchase.
Transport costs are significant in South Africa and will be a driving factor to opening manufacturing facilities closer to waste sources and final markets.
Amoriguard has developed a roof paint that is being tested according to QUV accelerated-weather testing methods, which involve alternating cycles of ultraviolet (UV) light and moisture at controlled, elevated temperatures to simulate sunlight, using special fluorescent UV lamps, dew and rain for more than 6 000 hours, says Purchase.
"Owing to the fine texture of the waste ingredients, they are suited for use in cement tiles, but can also be used on sheeting. We are finalising a basic colour range and will consider launching before midyear."
The filler product is suitable for repairing cracks and other imperfections in building plaster work and contains 30% recycled materials. The grey filler blends in with grey plaster and does not show through the painted surface to the degree that a white filler does, concludes Purchase.