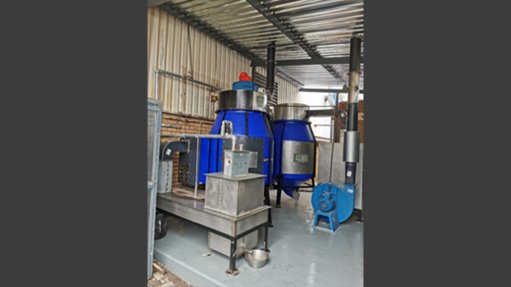 A dry scrubber system designed, manufactured and installed by local environmental management engineering company Ecor Cleaning at acrylic sheet producer Röhm Africa's plant in Elandsfontein, south-east of Johannesburg, has reduced the plant's emissions to well below its air emission licence requirement of 150 mg/m3.
Röhm Africa saw demand for its products rise drastically as the need for protective measures to minimise the spread of Covid-19 led companies to install clear sheets in buildings or provide protective headgear to protect workers, especially in the services and retail industries. It instituted 24/7 operations to meet demand.
However, to meet its air emission licence requirements, the company had to replace its inefficient water scrubber system to ensure compliance with the minimum allowable emission concentration of volatile organic compounds, and specifically methyl methacrylate, which are toxic and flammable.
Ecor was selected to design, manufacture and install the required upgraded scrubbing system for the Elandsfontein acrylic sheeting manufacturing plant in April 2020.
Despite the challenges presented by a hard lockdown in South Africa, an efficiency test on the new system was done in September 2020 by environmental sciences and services company JB Enviro Services, which showed compliance of the system with minimum emissions standards, with an average 0.001 mg/m3.
"With the successful design, manufacturing and installation of Ecor's scrubbing system, Röhm Africa is now more than compliant with its licence requirements and will be able to obtain a five-year air emission licence from the local authorities," says Ecor founder and director Etienne le Roux.
The dry scrubber uses a series of membranes, adsorption, micro-filtration and other methods to remove the hazardous compounds from the emissions of the acrylic sheet production line.
Le Roux tells Engineering News that the dry scrubber design can be applied to various industries, including coal- and gas-fired power generation, and plants in the chemicals and metals sectors.
However, each system must be designed to accommodate the particular characteristics of the emissions that must be cleaned. Ecor requires a representative sample from the plant to conduct testing and design work, he explains.
Further, the company reports sustained business opportunities from across Africa. It has specialist experience in gas-to-power systems, and makes an organic waste-to-gas Anaerobic Digester Reactor (ADR) system that produces biogas for gas propulsion and generator units for electricity.
"We have a prospective project at the Weltevreden landfill, in Brakpan, east of Johannesburg, to process household, agricultural, sewage and organic waste to produce power. We have designed the system to remove contaminants and reactive compounds that can corrode or erode equipment, such as hydrogen sulphide, ammonia, siloxanes and carbon dioxide, among others, leading to very low maintenance requirements and long operating times.
"Additionally, we have reduced the hydraulic retention time, allowing for more gas and electricity to be produced. Owing to the complete decomposition and digestion, we have experienced little or no significant digestate left after biofilter treatment. The residual waste from the ADR can be used as an organic fertiliser for local gardens and farming," says Le Roux.
The company, which has consulted for and completed projects in Egypt, Zambia, the Democratic Republic of Congo and Nigeria, offers its services to help companies control and reduce emissions and to develop clean gas-to-power systems.