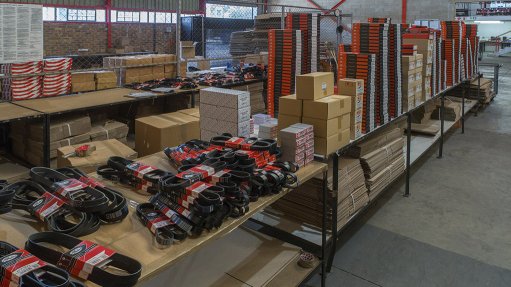 ABOVE THE BELT Autobax supplies quality-branded automotive parts from belts and chains to bearing kits and allied products
Automotive aftermarket supplier Autobax is celebrating its fiftieth year in operation since its beginnings as an engine parts agency, selling mainly pistons but also other components.
"Notably, Autobax was the first acquisition of wholesale and retail bearing and transmission equipment company Invicta Holdings Limited CEO Arnold Goldstone in 1995," explains Autobax MD John Black.
Autobax, which now forms part of the engineering solutions group (ESG) business segment of automotive products and service provider Invicta Holdings, has expanded its operation significantly, to become a leading supplier of automotive products and services to vehicle manufacturers and the automotive aftermarket in sub-Saharan Africa.
"Autobax has been the preferred service provider of aftermarket manufacturer and supplier Gates locally for over 35 years and the sole national distributor of the Gates range of automotive timing components," adds Black.
Notably, Autobax is also the exclusive kit packer for bearings manufacturer Timken products in South Africa.
"The company's extensive portfolio of quality-branded automotive parts encompasses timing belts, tensioners, idlers, micro vee belts, oil pumps, timing chain, bearings, seals and allied products – supplied by leading component manufacturers such as Gates, MRK, NTN, Europart, STC, Timken and NSK.
"Strategies to maintain the company's leading position in a highly competitive sector include setting benchmarks for the company to meet stringent international standards, regulations, legislation and other applicable obligations, in every aspect of our business."
A further development for Autobax at the end of 2018, was the acquisition of the global Driveshaft Parts Group, which services passenger, light commercial, heavy-duty, off-highway and agricultural vehicles, as well as vehicles for industrial sectors including steel mills, paper mills and marine.
Through this acquisition, the Driveshaft Parts Group is benefiting from valuable synergies that enhance the company's leading position in the automotive and power transmission component industry.
The Driveshaft Parts Group – with five outlets in South Africa and branches in Poland, Ukraine, Spain and the UK – specialises in the supply and support of universal and CV joints, propshaft support bearings and all components relating to the repair of driveshafts and complete shafts. Apart from the in-house trademark, key brands include Spicer, Tirsan Kardan and Gewes.