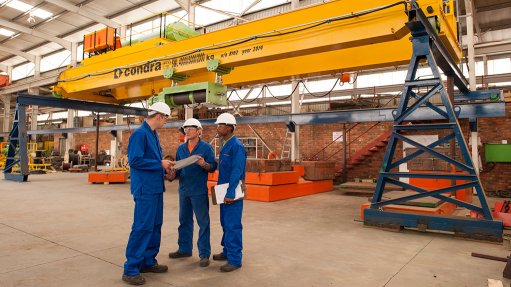 CONDRA 40 T CRANE With advanced control technology, Condra's 40 t crane reads the hook's location to within an accuracy of 2 mm
South Africa-based multinational crane manufacturing company Condra delivered locally designed and manufactured maintenance cranes to the R3.5-billion De Hoop dam, in Sekhukhune, Limpopo, in November.
Condra MD Marc Kleiner tells Engineering News that the company manufactured the three cranes for the 347-million cubic metre De Hoop dam, including a double-girder overhead travelling crane.
He says the double-girder crane is a specialised machine that has been designed to work under water, lifting and lowering fine screens and sluice gates, and placing and removing stoplogs to temporarily stop the flow of water through outlets and allow valve and pipe maintenance to take place.
The 40 t crane has two auxiliary hoists of 5 t and 2 t. It boasts advanced control technology that locates the hook to within an accuracy of 2 mm. The crane has a load indicator that signals an operator when the hook has successfully engaged the load, while hunting tooth limit switches help control top, bottom and side travel to maintain positioning as accurately as possible.
The other two cranes are 12 t machines that are used for valve maintenance. The De Hoop dam has a wall that is about 1 015 m long and 81 m high; it is the thirteenth-largest dam in South Africa and one of the largest to be built in the country in the last 20 years. It is believed that it could solve Limpopo's water supply problems, with several pipelines being constructed to boost water supply throughout the Sekhukhune district.
Kleiner says that the custom-made cranes for De Hoop are the latest in Condra's list of high-lift machines that the company designed and manufactured for dam walls across Southern Africa. He adds that the company manufactured similar cranes for the reservoirs of the Lesotho Highlands Water Project, where machines with extreme lift heights of up to 158 m were commissioned.
Global Expansion
Kleiner tells Engineering News that Condra, which has manufacturing facilities in South Africa, South America and Europe, has incorporated select and relevant technological developments to lower the overall lifetime costs of its products below those of its competitors.
The company boasts a reputation for producing rugged, robust cranes that can withstand the harsh operating conditions across Central and Southern Africa.
It started growing its market share in European markets in 2008. To deepen and extend its foothold in Europe, Kleiner says, the company has started focusing on developing its products to incorporate technologies that lower costs and extend the life span of its products.
Some of the product improvements introduced are the adapted V-belt hoist drives, live-axle direct drives on the end-carriages, case-hardened hoist gears, and squirrel-cage motors with disc brakes.
"The V-belt drives have been tested and proven in the motor vehicle industry for decades. They deliver very low maintenance costs because they do not need greasing or cleaning, and when applied to hoists, they deliver a performance that is considerably superior to any alternative in tough operational environments where routine maintenance is likely to be overlooked," he explains.
Further, Condra uses live axles in end-carriages to eliminate the cost of ring and pinion gears. This enables axles to transmit drive torque directly to the wheels, which, in turn, lowers friction losses and increases energy efficiency.
In addition, the company incorporated case-hardened gears that optimise performance and extend gear life. Condra also uses a 36B case-hardened material on most pinions, and casting gearbox housings and some flanges in aluminium.
Further enhancements include squirrel cage motors used for rugged construction and lower maintenance requirements, as well as rotors being made from silumin.
Other optimised products are hoist ropes and brake logic circuits, where smaller-diameter ropes of high-tensile strength are fitted to Condra's hoists, enabling reduced drum diameter and a smaller gearbox and motor.
He concludes that Condra is investing in research and development to increase the performance and life expectancy across its range of brake units, as well as improve the environmental impact.