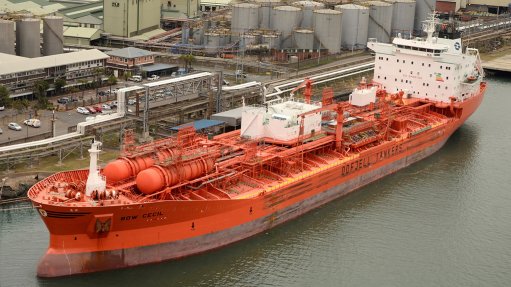 The Bow Cecil
Black-owned Mnambithi Group, through its Nduna Maritime subsidiary, has acquired a South African-registered chemical tanker vessel, named Bow Cecil.
The maritime vessel will soon be flagged locally, Mnambithi said in a statement on Thursday.
The vessel, equipped with 47 tanks, was acquired from Odfjell Chemical Tankers, and was called to the Port of Durban on August 1 for its inaugural load, which is destined for markets in Asia.
The vessel handles outbound shipments of chemicals into South East Asia, the Middle East, and Europe, for petrochemicals company Sasol and other companies.
The Bow Cecil will also handle inbound shipments of vegetable oils, caustic soda, phosphoric acid and other chemical products for Omnia, PetroSA, Sappi and FR Waring, besides others.
The purchase makes for a positive contribution to the development of the maritime sector, the statement explained, pointing out that South Africa currently spends about R160-billion a year on foreign-owned and operated vessels.
Mnambithi Group chairperson Vusi Mazibuko said the company had long-term plans to own and operate its own tankers.
"We also have plans to expand our fleet in both liquid bulk and dry bulk vessels, which will reduce the country's current dependence on foreign-owned vessels," he added.
Mazibuko said the company had "heeded the call to address the aspirations of the South African government's National Development Plan" by increasing investment in the country's ship registry, as well as by creating an enabling environment for the improvement of human capital and skills development in the sector.