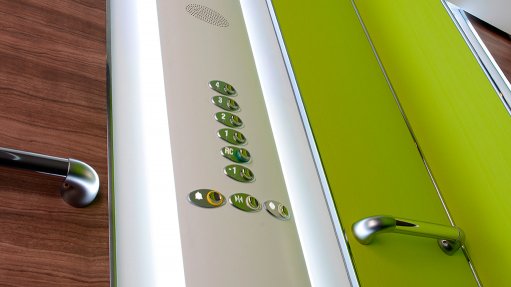 GEN2 SWITCH ELEVATORThe elevator is designed to continue operating despite electrical power disruptions
Conveying and lift company Otis has launched its Gen2 Switch lift, which can continue operating for 100 trips in a seven-storey building during a power outage, owing to its regenerative drives and battery system, says Otis communications manager Hayley Elwen.
The lift is powered by electricity and needs only a 220 V building connection, which, in turn, supplies power to the batteries to be used in the event of a power outage. The battery pack continues to power the lift at full lifting capacity during a power failure.
The batteries have a four-year life span, and enable the lift to do 100 runs when the power is out at normal capacity. The lifts come in two capacity ranges – 630 kg, 8-passenger and 1 000 kg, 13-passenger lifts. The batteries are also made of 97% recycled materials and are 90% recyclable.
"The battery system is compatible with alternative energy sources, such as solar panels and wind power. Depending on the required autonomy from the grid, one lift would require 500 W to 2 000 W, which corresponds to four to nine solar photovoltaic (6 m² to 12 m²) panels," explains Elwen.
Battery recharging and efficiency is pro- vided by the ReGen regenerative drive, which captures waste energy generated by the elevator during its operation, and can either feed the energy back into a building's electrical grid for use by other systems such as lighting and ventilation or, in the case of the Gen2 Switch, provide power to charge the batteries. Otis has a range of Gen2 lifts that include the ReGen regenerative drive as a standard feature.
The regenerative drive is EN12015 and 12016-compliant, as well as SANS 1545 Part One-compliant. It can also be used in escalator applications and in standard lift systems like the Gen2.
"The Gen2 Switch lift is, thus, a perfect fit for smart buildings and new Green Star-rated buildings," she says.
The new lifts can also be installed in existing buildings to reduce the impact of rotational power cuts.
"Maintenance is exactly the same for the Gen2 Switch lift as it is for common lifts, albeit with the addition of the battery system. The batteries do not require any maintenance and can be recycled at accredited battery-recycling facilities," adds Elwen.
Otis foresees demand for the elevator from the residential and low-rise commercial sectors, particularly sites that do not have full generator backup. Any site that relies on a lift to transport people could benefit from using this lift.
The Gen2 Switch lift is available in other Southern African countries, including Lesotho and Swaziland, while Otis offices in Botswana, Mozambique, Namibia and Malawi are ready to provide support and installation services. Otis recommends that the Gen2 Switch lift be installed and maintained by qualified Otis technicians.
Elwen says several installations have occurred in Europe, including the recently installed first solar-powered Gen2 Switch lift, in France.
"The Gen2 Switch is an important product, considering South Africa's need to reduce overall energy use, as the Gen2 system, in conjunction with the ReGen drive, is up to 75% more energy efficient than conventional systems."
Further, Otis also provides a retrofit product, called the Automatic Rescue Device, which can be fitted to most lifts. The device activates as soon as there is a power outage, moving the lift to the nearest floor, and enabling passengers to exit.
The Gen2 Switch lift has been received with interest by sites needing ongoing lift operation within the Gen2 Switch specifications, concludes Elwen.