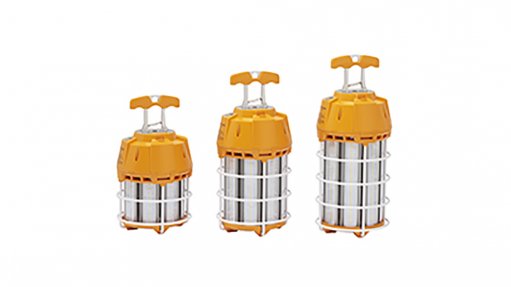 NEW AND IMPROVED Workers need bright temporary lighting to prevent accidents while handling dangerous tools and equipment
Global technology and engineering company Emerson added new models to its Appleton TL light emitting diode (LED) temporary work light family last month.
These new models enable electricians; maintenance, repairs and operations crews; mechanics and construction professionals to leverage extremely bright, energy-efficient 360° illumination in more projects to achieve improved safety and productivity.
Depending on their needs, customers can now choose from 60 W (200 W high intensity discharge (HID) equivalent – 7 200 lumens), 100 W (400 W HID equivalent – 12 000 lumens), or 150 W (600 W HID equivalent – 18 000 lumens) TL models, all delivering highly mobile, affordable and bright lighting.

Workers need bright temporary lighting to prevent accidents while handling dangerous tools and equipment, operating heavy equipment, or navigating sites that may include potholes, drops, crumbled concrete, rebar and other hazards.
According to the Occupational Safety and Health Administration (OSHA), 2.9-million American workers are injured on the job each year, with poor lighting to blame for the most frequent types of accidents such as slips, trips, falls, and contact with objects and equipment.
Injuries caused by falls, in particular, are more likely to be life-threatening than most other types of injuries. Spinal, head, or neck injuries are a common result of falls, regardless of the height from which the fall takes place, and can leave the worker severely disabled, or lead to death.

Because Appleton Temporary LED Worksite lights rely on advanced LED technology, they require only 25% of the power consumed by the HID temporary fixtures or incandescent stringer lights typically used on jobsites. It also requires much less maintenance, while producing ultra-bright, glare-free lighting with better colour rendering to combat fatigue and drowsiness.
As a result, workers are far less prone to accidents in dimly lit areas, or during the early morning and evening hours when construction crews are often on-site, while ensuring the safety of passers-by in high-traffic zones. Compared with older lighting types, Appleton TL LED lights operate at a lower temperature to prevent burns if the lamp is touched accidentally. Heat is dissipated through heat sinks, along with openings on the bottom and top of the unit.
Unlike HIDs, Appleton TL LED lights start and restart instantly, eliminating the risk of leaving an area in the dark for several minutes.

Far fewer Appleton TL LED lights are required for full coverage of a 10 000 ft2 open space at a 15 or 30 foot mounting height to meet OSHA General Construction Area lighting standards, saving money and time compared to HID or incandescent fixtures.
For example, at a 15 ft mounting height in a 30' x 30' space, only nine Appleton catalogue number TL100C LED lights are required by OSHA. The daisy-chain feature enables up to six 100 W units to be linked. Each unit has a built-in NEMA 5-15R receptacle, along with a 6 ft cord with a NEMA 5-15 plug, that connect in series to create a string of lights.

Industrial-Grade Engineering
Appleton TL LED lights fulfil commercial and industrial temporary illumination needs with heavy-duty construction -- including a high-strength polycarbonate top and bottom, 6 000 V surge protection, and painted steel guard – to absorb shocks, vibration and rough use.
Although rugged, the lights weigh less than conventional lighting fixtures, and this makes them easier to lift and manipulate.
Also, their low-profile stays up and out of the way of work activity. With no bulbs to break or drivers to replace, they are always ready for work, and feature an L70 rated operating life of 54 000 hours, saving the end-user maintenance time and expense.