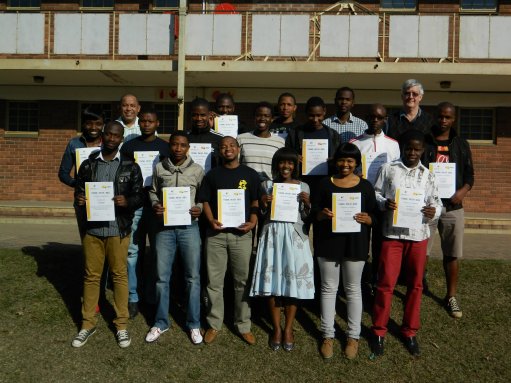 SMEC LIFE SKILLS TRAINING PROGRAMME Thus far, more than 70 civil engineering students from the Durban University of Technology Pietermaritzburg Campus have benefitted from the programme
According to professional services firm SMEC South Africa's KwaZulu-Natal-based office, its workplace integrated learning and training initiative for civil engineering students from previously disadvantaged communities – the life skills training programme that has been incorporated into the Durban University of Technology's (DUT's) Singakwenza Ndawonye training scheme run on the Pietermaritzburg Campus, in KwaZulu-Natal – is yielding positive results.
SMEC KwaZulu-Natal regional head Kresen Manicum tells Engineering News that the company started working with the Singakwenza Ndawonye training scheme in 2003, offering several final-year engineering DUT students an opportunity to complete their in-service training to meet their diploma requirements.
He explains that, last year, the company introduced and funded the life skills training programme – which has been outsourced to training organisation World Changes Academy – after realising that there was a need for a training initiative that integrated learning and the required life skills to succeed in the civil engineering industry.
"We recognised that many of the previously disadvantaged or marginalised students who benefited from the scheme bore the brunt of not being exposed to the engineering profession. Several students battled to come to terms with some generalised skills, including how to conduct oneself in a professional environment, financial and banking issues, driving skills – which are essential for an engineer – and other basic skills that we take for granted on a daily basis," he elaborates.
SMEC KwaZulu-Natal human resources manager Santhosnee Reddy says that the programme is carried out twice a year, with several topics being covered over a two-week period. The topics include professionalism and work ethics, personal financial management, relationship management, communication and self-esteem and personal development, with a focus on having a vision and goals.
The first group of students to graduate from the life skills training programme completed the course in July 2013. Reddy explains that about 70 students have benefited from the programme thus far, with a fourth intake of students scheduled to start at the end of this month.
"We want to take this to the next level by perhaps incorporating further education and training institutions, though our first point of call right now is DUT as it has had the foresight to look for positive solutions to what is a national challenge," Manicum elaborates.
Other SMEC Initiatives
Manicum tells Engineering News that, as a committee member of the South African Institute of Civil Engineering, he has volunteered to adopt Silver Heights Secondary School, in Pietermaritzburg.
He says that this 'adoption' has enabled former learner Sphamandla Mgabi – who got eight distinctions in matric – to study towards a BSc drgree in civil engineering at the University of Pretoria (UP), as he has received a fully sponsored bursary from SMEC.
In 2013, which was Mgabi's first year of study, he achieved a 72% average, achieving distinctions in six subjects. He has achieved a 70% average, with a distinction in one subject for the first semester of his second year. SMEC will employ Mgabi once he completes his studies and assist him in achieving professional status Manicum says.
"We want to be part of meaningful empowerment and change," he adds.
About SMEC
SMEC's origins date back more than 40 years and the firm boasts a global footprint of more than 5 100 employees, with an established network of more than 70 offices in Australia, Asia, the Middle East and Africa, as well as North and South America.
SMEC South Africa provides professional engineering services in South Africa and the rest of Africa in the sectors of hydropower, transport, water, natural resources and the environment, geotechnical, mining, tunnelling, urban development, renewable energy, electricity, government and advisory services, as well as social infrastructure development.
The company's consultancy services include prefeasibility and feasibility studies; field investigations; laboratory testing; computer modelling; detailed design; tender and contract management; construction supervision; quality assurance; commissioning, operation and maintenance and training; and project management.
Over the years, SMEC has won multiple indus- try awards for excellence. They include four gold awards at the 2011 Consult Australia 2011 Awards for Excellence. Since its inception, the company has delivered thousands of civil, transport, water, environment and power projects in more than 80 countries across the globe.