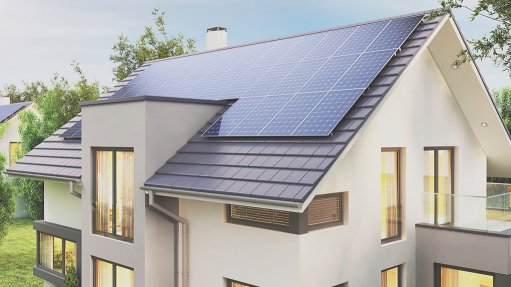 AFFORDABLE ENERGY The reduction in the cost of solar generation technologies will make energy storage more viable locally
The use of renewable energy, such as solar photovoltaic, and exploring energy storage technologies, are integral to balancing the local energy mix in South Africa, including in the domestic and commercial sectors of the country.
However, government needs to provide more guidance in terms of legislation to better implement these energy storage solutions correctly to the benefit of all relevant stakeholders, including State-owned power utility Eskom and end-users, states solar energy equipment supplier Valsa Trading MD Svilen Voychev.
To provide the much-needed energy security that the country needs, President Cyril Ramaphosa amended Schedule 2 of the Electricity Regulation Act (ERA) in June to increase the threshold for embedded generation projects that do not require National Energy Regulator of South Africa licensing from 1 MW to 100 MW.
Voychev, however, calls for clarity from Eskom in terms of this legislation in terms of whether users that generate their own electricity can, firstly, feed extra electricity back into the grid and, secondly, how much energy could be fed into the grid.
By providing clarity in terms of legislation and allowing end- users to feed electricity back into the grid, government could encourage more end-users in the domestic and commercial sectors to use more renewable- energy sources for self-generation, he adds.
"Currently, the lack of clarity is preventing further progress. A clearer framework will make it easier for self-generation and renewable-energy projects to become a reality, and these projects can better guide Eskom to prioritise and bring much needed stability to the country's energy supply," he states.
Further, he explains that Valsa is experiencing an increase in requests for energy storage projects. "We do require additional guidance from government and relevant stakeholders, as we need to ensure that we follow legislation and are compliant when advising clients on energy projects."
The next step, following the amendments to Schedule 2 of the ERA, adds Voychev, is how do we work together with Eskom and all stakeholders to properly secure energy storage solutions to enable the stability of the national power grid and to enhance the development of renewable energy.
He explains that the adoption of energy storage technologies has several advantages, including enabling and assisting Eskom by managing and bringing stability to the local energy grid.
For example, Voychev says that one advantage involves using stored energy to supplement the energy grid during hours when the grid is under strain. This stored energy can be used to reduce load pressure during peak hours. A second benefit is that energy storage for renewable sources of energy will enable end-users to become more independent from the grid and produce their own electricity on site.
Voychev stresses that there while there are several benefits that end-users would realise, which also has a positive impact on Eskom, ensuring that they meet the necessary standards for installed energy storage systems to supply power into the local grid is paramount. A system that does not comply, can present safety risks for installers, the end-user and Eskom, he warns.
This ability to efficiently manage the grid becomes more important as a larger number of end-users go online with energy storage and self-generation capacity, explains Voychev. This is why, he emphasises, understanding legislation and educating all stakeholders who are part of the upstream and downstream energy value chain is vital.
"At Valsa, we are committed to ensuring that all systems supplied to customers are compliant, and we transfer this knowledge to the installer through information and training sessions to make sure that any product or system integrates with the existing grid. This is an educational process with installers that we remain committed to."
Meanwhile, the reduction in the cost of solar generation technologies over the past two years will also make energy storage more viable locally. However, Voychev anticipates that the cost of energy storage systems will not drop significantly in the immediate future – particularly with high demand for materials used for energy storage technologies from manufacturers globally.
Though, he points out that technological advances in battery storage will help the solutions become more affordable. This, coupled with increased developments in enabling energy efficiencies, given that these technologies are increasingly being used, will make energy storage and renewable energy more cost effective locally over time, he concludes.