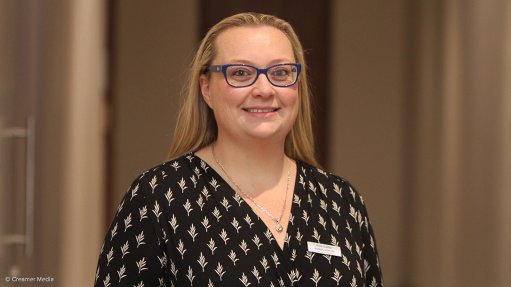 Webber Wentzel partner Kate Collier
Photo by: Duane Daws
JOHANNESBURG (miningweekly.com) – The only certainty about current enforcement of South Africa's Mine Health and Safety Act is consistent uncertainty, says Webber Wentzel partner Kate Collier.
Addressing a seminar on the way the Department of Mineral Resources (DMR) approaches senior mine management in the aftermath of serious mine accidents, Collier pinpointed differing regional procedures as the biggest cause for concern.
Against the backdrop of DMR inspectors having absolute discretion on the way inquiries were conducted, entirely different interpretations were the order of the day.
"We don't know what the DMR is going to want when they arrive at a mine in a particular area or even on a particular day in the same area," she told the seminar attended by Creamer Media's Mining Weekly Online.
In the Northern Cape region, in loco investigations were not being held in loco but at venues away from the location.
In such instances, all concerned had to be bused to Kimberley and accommodated there for a week to allow inspectors to cross examine every single person within 48 hours of the accident.
"Between three key mining jurisdictions – North West, Limpopo and Northern Cape – we have inquiries that differ so substantially that in some regions witnesses are no longer even allowed to present a formal statement.
"They go right into an inquiry and are placed under oath and cross examined based solely on information gathered during a Section 54 upliftment and based on the information that inspectors gathered when they spoke to crew members during the inspection on in loco," she outlined.
CEOs were increasingly being called into Section 54 proceedings and in cases where mining rights were held by a subsidiary of a parent company, the CEO of the governing company was obliged to attend.
"One of the biggest dampeners on any senior mine team is this apparent reverse onus in the inquiry. It's the only forum in which you go in guilty and have to prove your innocence. That weighs very heavily on the hearts and minds of the people who have to go in there and prove that the death of one of their employees was not their fault," Collier added.
Addressing the same seminar on the Mineral and Petroleum Resources Development Act Amendment Bill, Webber Wentzel partner Manus Booysen said that despite the Ministerial assertion that the Bill would ensure regulatory certainty by year-end, it remained absent as a result of the broad discretion granted to the regulator.
"It's my respectful submission that the ability of the Bill to enhance regulatory certainty remains a ghost and, if I may say so, quite a scary one at that," Booysen commented. (Also watch attached Creamer Media video).