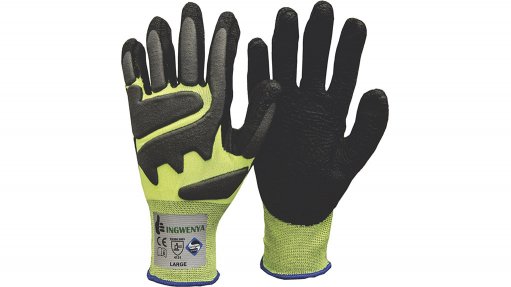 FULLY COVERED The Evolution Gloves are designed to fit closely to offer superior grip and protection without compromising the sense of touch and freedom of movement to carry out intricate tasks
Personal protective equipment (PPE) supplier G.Fox will launch the Evolution Gloves range by the end of this month, which G.Fox marketing manager Shaun Botha says is a combination of innovation, dedication, passion, pride and new technology.
"Designed and tested for safety, comfort and endurance, the gloves provide maximum hand protection and durability in the most rugged and physically challenging work conditions."
He adds that the company has spent five years developing the Evolution Gloves range.
"The South African hand protection requirements are unique, and many of the gloves that are imported are not necessarily designed for our markets. Our close relationship with our clients ensures that we are constantly striving to meet new levels of safety for users," he points out.
He mentions that heavy-duty industries like mining, rigging, construction, machining, mechanical maintenance and assembly require gloves that are tough and durable while providing value for money.
Botha explains that the proprietary Ripple technology palm coating offers superior grip in dry, wet and oily conditions as well as best-in-class abrasion resistance, while the Evolution Impacto Technology offers back-of-hand protection for knuckles and finger joints, safeguarding them from shocks, crushes and impacts.
Further, the grip, durability and cut resistance have been enhanced, while the gloves' impact on hand health has been reduced. The design and material also allow for maximum freedom of movement and dexterity.
"When handling sharp objects, if you do not have proper grip, the object may move and cause a cut," he explains.
Botha adds that the Evolution Gloves are designed to fit closely so as not to compromise the sense of touch and freedom of movement needed to carry out intricate tasks, while offering sufficient protection.
The gloves will be available in a range of sizes. The correct glove size will ensure comfort and increased control of the object while reducing the risk of hand fatigue and loss of control, he explains.
The range is independently tested by accredited laboratories that carry the Conformité Européene (CE) mark and meet European standards. The range is certified by the laboratories which certify the products by conducting a CE-type examination.
G.Fox is committed to safety and believes that the time has come for zero tolerance regarding hand injuries and to provide effective hand protection in the workplace, he says.
Moreover, Botha mentions that, in recent years, G.Fox has been focusing on becoming more of a niche PPE manufacturer and supplier rather than a general PPE supplier.
"We were able to acquire a niche glove business mainly focused on the automotive and industrial sector. The wealth of knowledge that came with the business through its founder, Mark Schewitz, is unrivalled in the industry".
This acquisition forms part of our strategy of continuous innovation and further establishes G.Fox as a market leader providing clients with quality PPE products, he concludes.