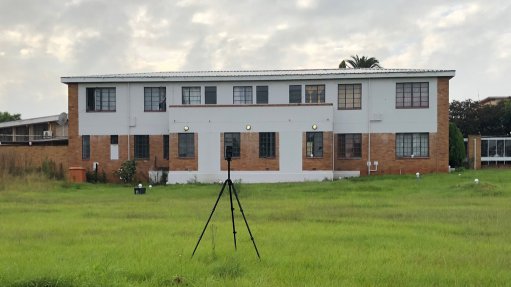 LASER SCANNING Laser scanning delivers exceptionally accurate measurements and it is a nondestructive, noninvasive and safe method of mapping out structures
Local engineering and architecture clients are becoming increasingly aware of the concept of laser scanning and the benefits of using it to capture and define real-world spaces into accurate three-dimensional (3D) models, says laser scanning company ArchiScan director Anthony Keyter.
"Laser scanning delivers exceptionally accurate measurements and it is a nondestructive, noninvasive and safe method of mapping out structures, ground falls and architecture," he tells Engineering News.
Further, laser scanning is cost and time efficient. For example, ArchiScan scanned about 60 000 m2 of structures and space at a State-owned regional hospital in Gauteng, in June. ArchiScan completed the scanning in 11 days, which probably would have taken a team of five people using traditional methods of measurement many months to achieve, Keyter enthuses. ArchiScan used two scan technicians for the project.
The company can service a range of applications across sectors, such as clash detection, construction verification, surface deviation, volume calculations, two-dimensional and 3D modelling, as well as reverse engineering.
"The usefulness of laser scanning is limited only by your imagination," he advances.
ArchiScan's services are generating increased interest from clients in engineering, with a massive uptake in its services from this sector, he notes.
Projects and Prospects
ArchiScan completed a laser scanning project at the Limpopo Tourism Agency last month.
The company was contracted by architect firm Motselmi Architects which, in turn, was contracted by the Department of Trade and Industry in Limpopo.

ArchiScan was contracted to generate an Autodesk Revit model and a full land survey of the site, on which renovations will be done. Autodesk Revit is building information modelling software.
Further, in April, ArchiScan was approached by a facility management firm wanting to integrate significant amounts of data captured by scanning into its asset management processes.
"We are now working on developing a lidar scanner and software integration that will automate the whole process," Keyter mentions.
ArchiScan is working with two laser providers in South Africa to develop a holistic mobile scanning solution. The company is also working with a software developer to unpack an existing software package and add in more functionality to assess the data that will be generated by the scanner.
He notes that the hardware should be ready in three months, but the company is expecting a long development process of between six and twelve months for the development and integration of the software.
The scope of work for laser scanning in South Africa is "monstrous", Keyter declares.
"There are about 180 000 government buildings, and even more commercial buildings, without plans. Plans will have to be generated for these buildings, and laser scanning is the ideal solution."
There is an increased uptake of laser scanning and the outlook for local industry is positive, he concludes.