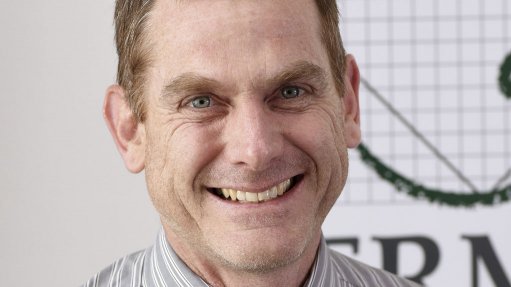 STEVE MCKEOWN Companies that have a global footprint are more committed to assessing their impact on the environment
With there being an increase in land-contamination assessments among large companies, owing to recently promulgated environmental legislation, sustainability services and consultancy Environmental Resources Management (ERM) partner Steve McKeown says this will hold companies accountable for the contamination issues they create and will, therefore, have a positive effect on the environment.
He adds that this increase can be attributed to two principal causes: a growing corporate commitment to sustainable business practice and an increased awareness of land pollution legislation.
Companies that have a global footprint are more committed to assessing their impact on the environment, owing to increasing reputational pressures and emerging awareness and legislation from governments.
These companies employ environmental consultants – such as ERM – to assist with understanding the nature and effects of the contamination impacts at their properties, McKeown explains.
He notes that updates to legislation – such as Chapter 4, Part 8 of the National Environmental Management: Waste Act (Nemwa), which came into effect on May 2, 2014 – have outlined specific guidelines and other aspects that are related to contaminated land.
Penalties for not adhering to the Nemwa differ depending on the degree of land contamination; however, guilty parties could potentially face a fine of up to R10-million or ten years imprisonment, McKeown explains.
"Essentially, the Act places a positive obligation on companies that are conducting activities that have the potential to contaminate land to investigate whether the land is contaminated. These companies are required under the Nemwa legislation to report their sites to the Department of Environmental Affairs (DEA), which will decide on the further course of action," he points out.
Although the DEA has not prosecuted many companies in this regard, McKeown notes that more information on the status of contaminated land sites should be readily available once the DEA has compiled the contaminated land register.
ERM principal consultant and land contamination specialist Tania Swanepoel says large businesses have realised that good environmental practice is good business practice and often becomes the platform for financial savings while protecting corporate reputation.
"Companies realise that they need to define whether there is any on-site contamination before they take over or sell a site. This enables them to determine what liabilities they need to make provision for and, in some cases, is a requirement for their yearly reporting," she explains.
Land contamination is caused by xenobiotic (human-made) chemicals or other alterations in the natural environment; and is typically caused by industrial activity, agricultural chemicals or the improper disposal of waste.
ERM has been involved in projects across the African continent for more than 40 years and established a permanent presence on the continent in 2003 to meet the growing needs of clients.
"We often investigate the site where some chemicals have been released. Our job is to then understand how much has been released, and where the contamination has spread. Land contamination can affect the ecological system through the bedrock, and ground or surface water, as well as human health," explains McKeown.
Within Africa, ERM employs about 180 people working from offices in South Africa, Mozambique, Tanzania and Kenya.