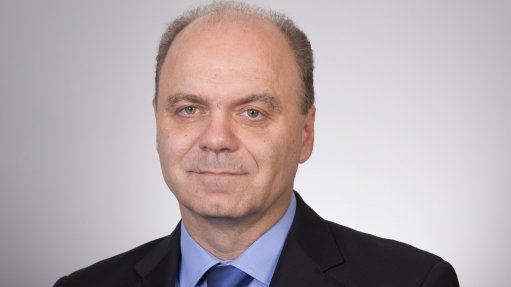 JOHANNES BRUNNER There is significant interest in Africa in terms of the opportunities available for companies in renewable-energy and energy-storage
Despite an uptick in planned power-generation projects, it is still fair to say that Africa lacks reliable power supply, which has prevented the continent's economies from developing in line with their potential, says Austrian Trade Commission Advantage Austria.
"The effects of the lack of adequate and/or reliable power supply are easily identifiable when one considers that several African businesses have had to secure backup supply or consider off-grid solutions, accruing additional capital costs, or suffer through numerous unproductive hours waiting for power to be restored, which hurts profitability," says Advantage Austria trade commissioner Johannes Brunner.
He comments that the increased implementation of power generation schemes throughout Africa, specificallythe solar and hydropower plants that will be commissioned within the next few years in East Africa, is encouraging.
Subsequently, East African economies have started performing better, compared with other African and developing economies.
He states that, while Austria's main trade markets are those of the developed world, there has been renewed interest in the emerging and developing markets of Latin America and Africa.
Based on proximity and other economic factors, the European Union (EU) is the biggest market for Austrian exports, followed by North America and Asia. However, Brunner notes that he and other members of Advantage Austria recently attended two African conferences in Austria and based on the reception, there is clearly a significant growing interest and appetite for Africa in terms of the various opportunities available for energy companies, especially those in the renewable-energy and energy-storage sectors.
Further, he mentions that the prevailing political environment in Europe – particularly the refugee and migrant crisis – has resulted in renewed focus, specifically from countries such as Germany and Austria, on providing funding for education and industrial development for emerging and developing economies. This will improve the livelihood of citizens in these developing economies and, thus, reduce the need for forced economic migration, which would, in turn, reduce the number of migrants looking to enter the EU.
Brunner notes that, compared with other African countries, South Africa currently receives the most foreign direct investment from Austria, noting that there are 50 companies in the services and manufacturing sectors that have business ventures in South Africa.
He adds that South Africa is Austria's most significant African trade partner, with trade between the two countries amounting to between €800-million and €900-million last year: "Compared with previous years, this number was rather low, contracting by about 16%, likely as a consequence of South Africa's poor economic growth, in addition to the volatile global economic market."
Commenting on difficulties faced by Austrian companies attempting to establish business ventures and operations in South Africa, Brunner cites the 2016 Business Climate Survey on EU Trade and Investment in South Africa, which notes some of the major roadblocks facing EU companies in South Africa, and is, therefore, applicable to Austrian companies as well.
Brunner says the survey notes that dealing with public entities, including State-owned companies, and local and provincial governments requires a lot of dedication, as government's procurement procedures require that companies aiming to tender for various projects first have to acquire a capable partner with the necessary broad-based black economic-empowerment (BBBEE) score.
Further, he notes that the survey found that most European companies, while willing to comply with the BBBEE regulations, indicated that the process of becoming compliant added additional levels of cost and bureaucracy.
The commission, which is based in Johannesburg, has member companies involved in various projects, including power projects, in Ghana, Angola, Zambia and Mozambique.
Brunner notes that Advantage Austria will attend Power & Electricity World Africa 2017, as it has a long-standing record as an exhibitor at the yearly event. He says the main focus of the trade commission's stand will be renewable energy, with sections on small- and large-scale hydropower development, solar power generation and energy storage.
There will also be a focus on cogeneration and the benefits of natural gas for uses besides power generation.
Brunner concludes that the conference is worth attending for any company with a stake in renewable energy, as the networking and business opportunities are plentiful.