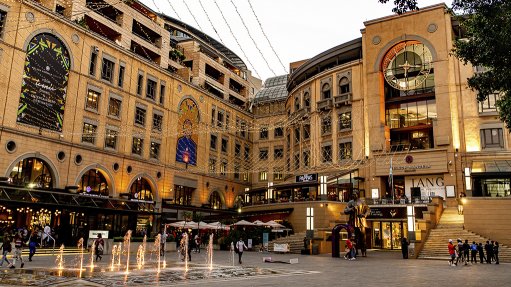 L2D's Nelson Mandela Square
JSE-listed real estate investment trust Liberty Two Degrees (L2D) has, notwithstanding a challenging operating environment, declared an interim dividend of 15.79c a share for the six months ended June 30.
On releasing its results on July 26, L2D's share price rose by 3.96% to 499c apiece.
The company has mentioned that the comparative half-year results must be considered within the context of strong trading in the first quarter of 2020, followed by the impact of what had been the hard lockdown.
The hard lockdown severely affected trading for L2D, considering its retail-centred portfolio and led to the necessity of rental rebates and discounts, which prevailed for the balance of 2020 and into this year.
L2D has posted a new-property income growth of 19% year-on-year, to R240-million, buoyed by a relative improvement in credit loss provisions between the two six-month periods.
Profit from operations totalled R215-million, which marks an 18% year-on-year increase.
The company is, however, continuing to experience pressure on rentals for income streams related to the hospitality, entertainment and restaurant categories.
L2D's balance sheet remains strong, with a loan-to-value ratio of 23.97%, while rental collections – based on the full amounts due and before any rental relief – has showed monthly increases and reached 112% in June.
L2D CEO Amelia Beattie is heartened by the resilient demand for space and recovery in trading levels in the first half of this year, which she says demonstrates that the company's progressive endeavour to recover is paying off.
"The focus of our capital and risk management strategies will be to protect and preserve our balance sheet and control costs, while we carefully pursue the operational growth opportunities aligned with our strategic value drivers.
"We have a clear and focused strategy, grounded in property fundamentals, and we remain committed to executing our business in a sustainable manner, remaining adaptive as we rebuild for growth," she states.
The company has achieved a retail occupancy rate of 96.7%, while the office occupancy rate has declined from 86.8% in March, to 86.6% in June this year, compared with 87.6% and 89.9% in the same months last year, respectively.
The overall portfolio occupancy sits at 93.7%, compared with 93.3% at the end of December 2020.
Beattie points out that the company's leasing strategy has delivered good results as new tenancies continue to enhance the customer experience. L2D's reversions have remained negative in the six months under review, while the company has concluded 79 renewals – 69 in the retail space and ten in the office space.
The company also secured 35 new deals across the portfolio since March, taking the total new deals being concluded to 54 – of which 44 are retail-related and ten are office-related.
L2D's renewals total 23 803 m2 of space, while its new deals span 20 303 m2 of space.
Beattie says the company's footcount continues to recover, with a 106% improvement year-on-year recorded in May, and a 55% footcount improvement noted year-on-year in June.
When comparing the footcount levels to 2019, May 2021 was down by 1.6%, while June has been more impacted by the third Covid-19 wave and resulted in footcount falling by 11.7%, compared with June 2019.
As at the end of June, L2D's South African property portfolio value stood at R8.5-billion, compared with R8.7-billion at the end of June 2020.
Beattie says the outlook for the property industry remains uncertain, as risks of the Covid-19 pandemic continue, and the board has resolved to not provide earnings or distribution guidance for the remainder of the current financial year.
The company remains focused on its Good Spaces targets, including achieving net-zero carbon, water and waste status before or by 2030.
L2D operates 17 assets, including Sandton City, Eastgate Shopping Centre and Nelson Mandela Square, in Gauteng, totalling nearly one-million square metres of space.