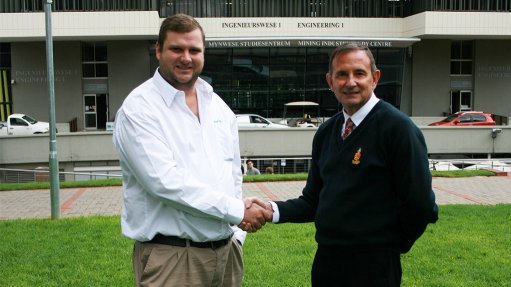 UP School of Engineering Professor Josua Meyer and KSB Sales Representative Dylan Mitchell
KSB Pumps and Valves has assisted the University of Pretoria (UP) in the construction of a large controlled-temperature test unit, which will form the backbone of ongoing research into heat transfer, fluid mechanics and thermodynamics.
This unit will allow students to plug directly into hot, moderate or chilled liquids to use on research projects and will shave about 50% off students' overall project build-up time.
This, in turn, will allow students more time to carry out actual research, and is expected to save considerable costs in future.
UP School of Engineering and mechanical and aeronautical engineering head Professor Josua Meyer says the multimillion-rand project was part-funded by the university, with donations from industrial companies, like KSB Pumps and Valves, used to fund the equipment and construction of the system.
The temperature-controlled unit relies on temperature monitoring of flow loops where water is conditioned through the relevant heat pumps and chilling units at near boiling or lower temperatures, as well as subzero degree Glycol at -20 ˚C, Meyer explained on Tuesday.
"The user demand within each loop is controlled using a system of pumps, variable speed drives, pressure transducers and special valves to allow up to eight experiments to plug-in simultaneously without affecting either the flow rate, working pressure or temperature of the unit," laboratory technologist Danie Gouws said.
He adds that this calls for "absolute reliability and requires the best possible equipment to be used to avoid downtime that may impede any of the research programmes".
The UP, therefore, specified five Etanorm 50/32/250 pump sets with 3 kW, 2.2 kW and 1.5 kW motors respectively according to flow rates, required pressure and other requirements.
"With their proven reliability and unwavering performance, they were selected to accomplish the main pumping requirements of the complex system," KSB explained.
Programmable logic controller-control will ensure that all parameters are checked and balanced to ensure the system delivers fluid at the right temperature set points and flow conditions 24 hours a day, regardless of the number of students using the facility.
The company further explained that it also ensures that ongoing and larger-scale research projects can be undertaken, including some cutting-edge research that is already being done in collaboration with other international universities.
These include valuable research concerning concentrated solar power, nuclear safety, as well as micro and power-related electronics, heat exchange tubes and clean energy studies among others being carried out by ten staff and 30 full-time students, including ten PhD and a number of master's degree students.