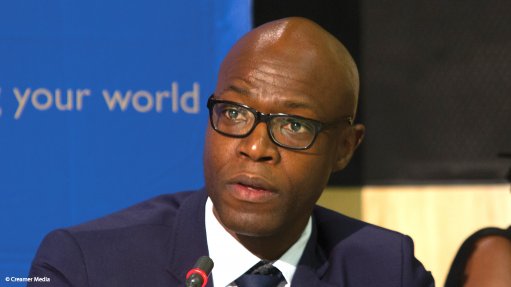 Matshela Koko
Photo by: Duane Daws
Eskom group executive for generation Matshela Koko has been named acting CEO as from December 1.
The appointment follows the November 11 resignation of Brian Molefe, which came in the wake of the release of the Public Protector's 'State of Capture' report, in which he was implicated. Molefe has said his resignation is not an admission of guilt and that he intends clearing his name.
President Jacob Zuma subsequently announced that he would be taking the remedial action proposed in the report on judicial review. The report ordered that Zuma establish a commission of inquiry, which should be led by a judge selected by Chief Justice Mogoeng Mogoeng.
In a statement, Public Enterprises Minister Lynne Brown said she had approved Koko's appointment, in line with a recommendation by the Eskom board.
"Mr Koko has a wealth of experience and understands the challenges Eskom faces. His appointment will also ensure continuity at Eskom. I have also asked the board to immediately start the process to appoint a permanent group CEO and that this process needs their urgent attention," the Minister said.
She also called on Koko to ensure that the current trajectory at Eskom continued.
Koko is a strong proponent of the proposed nuclear build programme and Eskom's role as procurer, owner and operator.
He has indicated that a controversial request for proposals should be issued to nuclear vendors before the end of the year, despite the absence of a finalised Integrated Resource Plan (IRP) and a draft IRP base case which indicates that the first new nuclear capacity would be required only in 2037.
Koko has justified the proposed release of the tender on the basis of a sample IRP scenario, which shows that the first new nuclear capacity will be required by 2026.
He is also opposing the signing of power purchase agreements for 26 new renewable-energy projects, despite these having already been adjudicated under the Renewable Energy Independent Power Producer Procurement Programme.
He argues that the capacity is not required in light of an Eskom forecast of an expanding electricity supply surplus until 2023 and has, therefore, called for the pace and scale of the renewables roll-out to be curtailed.