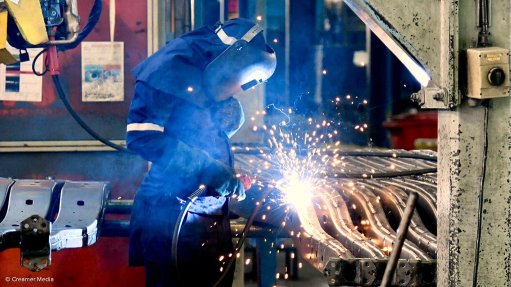 Photo by: Dylan Slater
India-based automotive component manufacturer KLT Automotive and Tubular Products South Africa plans to add 1 000 people to its 900-strong work force in the next eight years.
The company has a major contract with the Ford Motor Company of Southern Africa (FMCSA) for the Ford Ranger, and manufactures chassis frames at its Hammanskraal-based factory for the Ford plant in Silverton, Pretoria.
Speaking to Engineering News Online, on Tuesday, group MD Jubin Thakkar said that, to expand its employee base, it was key to acquire specific skills sets in South Africa, which the company has done since KLT opened its factory in 2011.
"Our chosen location, Hammanskraal, was a distressed area, with 80% unemployment when we arrived in 2011. We believe we can create much needed development, growth and employment opportunities in the area," he said.
He added that the company built an in-house welding school to train and develop the people of the area to meet production targets.
"In the last four years, we have trained 250 welders," he said.
The plant started with a two-shift operation, with the aim of increasing to a three-shift operation to allow for an increased volume of chassis production, once more people were trained and employed.
In December 2011, production had reached its expected optimal speed, and with a then trained work force, daily production targets were set over the two-shift spread for 100 chassis frames a shift.
"Ongoing staff training in global best practice, learnerships for youth in the community and donations to community upliftment organisations embed us deeper into the community and ensures the stable, productive relationships needed to produce to world standard," Thakkar said.
The company, is, meanwhile, also aiming to meet the requirements of FMCSA with the envisioned target of ramping up production volumes even further in the coming months.
"We currently produce 500 chassis a day, which is more than 10 000 chassis a month and we plan on increasing that this year," he said.
He noted that the company also had a steel manufacturing plant, in Johannesburg, that supported the KLT factory in Hammanskraal. The plant currently employs 80 people and also exports steel to the rest of sub-Saharan Africa.
KLT plans to open a third factory in the near future, where it will manufacture precision tubes for export to the US and Europe. That plant will create 200 jobs.
"Committing to the community of Hammanskraal has seen great value for the business.
How companies relate on the local level will determine how well they are able to deliver on the global level.
"For all the automation in modern manufacturing, it will be the people who help multinational enterprises meet quality benchmarks, gain international certification and win contracts," Thakkar said.