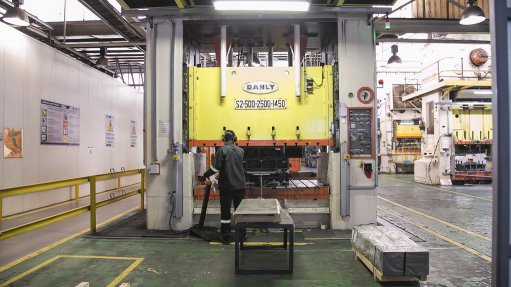 Chassis manufacturer, the KLT Group, has acquired the AVMY Steel Science pressing, welding, assembly and e-coating plant, in Brits, in the North West province, in an investment valued at roughly R30-million.
The move forms part of the Indian group's production expansion and diversification programme in South Africa.

KLT operations at the AVMY plant started in June, and current customers include Toyota, RG Brose, Ford and Mercedes-Benz South Africa (via a production partnership with Metalsa Germany).

KLT Group chairperson Jubin Thakkar says the new plant brings the number of South Africa-based KLT Group plants to four, with another plant in East London, in the Eastern Cape, on the cards for 2021.
"The Brits plant is our second AVMY acquisition, with the first – the AVMY plant in Linbro Park, Johannesburg, which is a steel processing centre and tube manufacturing facility – acquired in 2016.
"The Johannesburg plant manufactures both automotive and non-automotive products."

The AVMY plant in Brits incorporates a press shop with a 300- to 1 000-ton press capacity, as well as welding assembly systems capacity, a metrology department, laboratory division and e-coating facility.
New pressing and welding modules and projects are already underway in the newly acquired facility.
The plant currently employs more than 80 employees.

KLT Group director Paul Leonard says the Brits plant will be further geared to produce various pressing and welding sub-assemblies and modules for a number of vehicle manufacturers.
"Since launching our first operation in South Africa eight years ago, we have invested significantly in our South African operations," says Leonard.
"We expect to broaden our customer footprint extensively in the short and medium term."
The KLT Group currently employs about 1 000 people, but the figure is expected to increase to 1 600 by 2022.
"Jobs at our plants range from non-skilled to highly skilled blue- and white-collar roles," says Thakkar.
"We employ more than 80 engineers at our four plants throughout the country."
All the South African entities of KLT Group are level four compliant in terms of broad-based black economic empowerment.

KLT also provides training at a dedicated welding school at its Hammanskraal facility, and will roll out artisan training at all of its operations later this year.