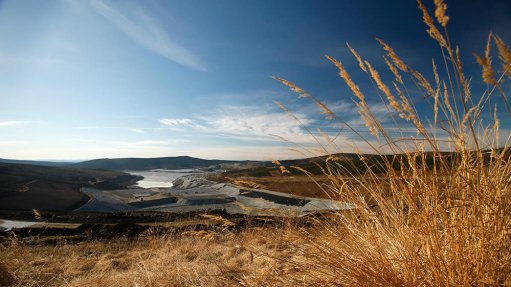 The Fort Knox mine, in Alaska.
Canadian firm Kinross Gold has become the latest miner to withdraw its production and cost guidance for 2020, citing the coronavirus pandemic's significant impact on the world economy and the implications of government-mandated constraints on business activities.
While the crisis has had no material impacts on Kinross' operations to date, it said on Wednesday that the suspension of its guidance was prudent.
For the first quarter of 2020, gold production had been impacted, in part, by crisis-related contingency measures and was expected to be about 560 000 gold-equivalent ounces (GEOs), with sales expected to be lower at 540 000 GEOs, owing to the impact of the global crisis on the timing of sales and metal shipments.
Preliminary cost of sales per ounce sold for the first quarter would be at the higher end of the original yearly guidance range.
The miner's previous forecast for 2020 was to produce about 2.4-million GEOs for 2020, a decrease compared with its 2019 production of 2.5-million GEOs.
Despite the Covid-19 crisis, all Kinross' mines are operating. In the US state of Nevada, where the company operates the Round Mountain and Bald Mountain mines, mining is considered essential and the same goes for the Fort Knox mine, in Alaska.
Brazil has also declared mining essential, thus the Paracatu mine is operating in Minas Gerais.
In Mauritania, the Tasiast mine is operating as it was exempted from government limits on domestic people movement on a case-by-case basis. Ghana excluded mining employees from a new Act passed last month limiting the movement of people in disaster, thus Chirano is operating.
The Kupol-Dvoinoye mine is not required to close as part of the five-day national work stoppage in Chukotka, Russia.
"During these challenging times, I would like to thank all our employees around the world who have stepped up and worked long hours under difficult circumstances to keep our people safe and our sites operating. I would also like to thank our host governments, including Mauritania and Russia, for supporting our company as we work to manage and respond to this unprecedented global crisis," said Kinross president and CEO Paul Rollinson.
"We are continuously looking at implementing more precautionary and mitigation measures across our company to protect our employees, their families and our host communities. We are also focused on ensuring our business continuity plans are sound, and that we are as prepared as possible in this rapidly evolving crisis."
Kinross further reported that it maintained a strong financial position and liquidity. As a precautionary measure, to protect against economic and business uncertainties caused by the pandemic and subsequent government actions, Kinross drew down $750-million from its $1.5-billion revolving credit facility on March 20, although it did not currently plan to deploy the funds given its strong financial position.
At March 31, Kinross had more than $1-billion in cash and cash equivalents, reflecting cash flow from operations in the first quarter of 2020, offset by payments related to the Chulbatkan acquisition, a tax payment in Brazil, a semi-annual interest payment for Kinross' senior notes, and repayment of the amount drawn on the credit facility at December 31, 2019.
As previously planned, Kinross has submitted a drawdown notice for $200-million on the $300-million Tasiast project financing facility. The first funds are expected in mid-April 2020.
Kinross has total debt of $2.5-billion, and net debt of less than $1.5-billion.