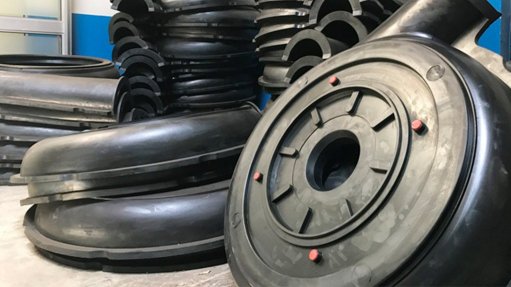 Wada Group, a major manufacturer and service provider that delivers ideal alternative pump solutions for the mineral processing and mining industries, specialises in mineral processing equipment, providing slurry pumps, as well as rubber, metal wear parts and other spares. Wada not only services the global mining industry, including the quarrying and mineral processing sectors, but also the power sector and general industry.
Wada Group has been embracing its strong relationship with First Africa Pumps since 2007, with KETO pumps as the supplier. Especially after the merger of KETO Pumps Australia, First Africa Pumps and Tri-Invest, Wada expanded its market further across Australia, Africa and America, providing customers with qualified alternative slurry pump spares thanks to its sound long-term business partnership.
Wada Group has become increasingly more efficient for customers since the establishment of its South African warehouse. In 2017, the group's South African warehouse reached stocks level worth $2-million, which helped shorten the lead time for a customer by 40 days. In this way, all clients, particularly those in urgent need, are enjoying the time-saving services offered by Wada. What's more, company management has made a plan to further set up a warehouse network globally in the next five years.
In the mineral processing field, most slurry pump end-users have not been aware that pump factories cannot produce everything they need, although they usually get pump products directly from the factories. They usually only manufacture the wear parts while the rest of the spares are purchased elsewhere. Thus, by contrast, serving as an active business partner, Wada boasts several factories that can produce all qualified spares – some specialise in rubber parts while the rest focus on metal ones. In fact, customers are actually placing orders to these factories directly. As a result, Wada is able to ensure that clients save on costs.
Wada specialises in horizontal slurry pumps, vertical slurry pumps, rubber wear parts, cover plate liners, high chrome wear parts impellers, cover plate liners, frame plate liners, volute liners, throat bushes, frame plate liner inserts, cast iron parts, ductile iron pump casings, cover plates and frame plates, as well as bearing houses and bases.
Thanks to its customised service offering, Wada is able to process whatever pump parts customers require. The increasing development technology of reverse engineering has further enabled the company to contra-derive the shape of a sample offered by clients and, with the help of the latest 3D imaging technology to scan the pump parts, Wada can acquire accurate drawings (based on aluminum, iron and wood model patterns) to ensure that the company's replacement parts fit 100% onto customers' pumps.
Wada Group understands the process and demands of the mining industry and can offer comprehensive services tailored to customers' needs. Its global network of service facilities are fully equipped with the latest technology and equipment to ensure that the clients' pump performance is optimal and that downtime is minimised.
Wada Group offers service exchange programmes for slurry pumps and slurry pump bearing assemblies. Its service exchange programme has been established to allow for fast delivery of critical wear parts, as well as other necessary pump repairs and maintenance. All remanufactured products are supplied with a new product warranty.
For further information:
Website : www.wadagroup.com
Email : sales@wadagroup.com