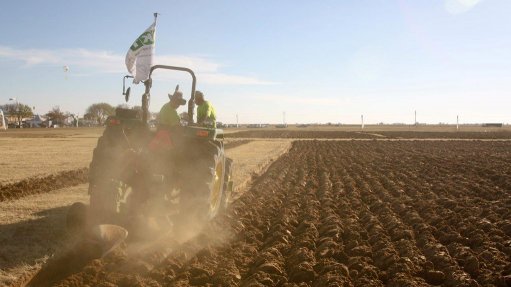 Ploughing up a Storm Ploughing – using traditional ploughs and methods – is an art and a skill that is increasingly becoming obsolete, owing to improved machines and equipment
A young generation of ploughers will take to the fields in a ploughing competition at this year's Grain SA Nampo Harvest Day, which runs from May 13 to 16, in the Free State.
Sponsor of the event and tube and tyre distributor Tubestone says it was decided to introduce a junior event, owing to the popularity of the main ploughing competition and the importance of raising awareness about the importance of encouraging a younger generation of farmers.
Since 2012, the South African Ploughing Organisation (Sapo) has been holding trial competitions for experienced farmers, throughout South Africa, from Bredasdorp, in the Western Cape, to Tzaneen, in Limpopo. Competitors aged 18 and below who are still in school are regarded as junior competitors, whereas competitors aged over 18 and out of school are regarded as senior competitors. During these trial competitions, the winner and runner-up for the junior and senior categories qualify to plough in the South African national competition, held at the Nampo Harvest Day each year.
A junior ploughing trial competition was added to the last few trial competitions held throughout the country.
Top Ploughers go Head-to-Head
During Nampo 2012, the South African senior ploughing competition was conceptualised when ploughing demonstrations, delivered by international ploughing champions, took place at the event.
The senior ploughing competition was first held at last year's event and, subsequently, Tubestone, tyre manufacturer BKT tyres and commodity strategic support organisation Grain SA decided to host the ploughing competition at every Nampo show.
Sapo head organiser Rudi du Toit says the organisation noticed the gap in the farming sector a few years ago, as "South Africa, being one of the leading agricultural countries in the world, had no representation at the World Ploughing Championship", he says.
"Tubestone seized the opportunity, which resulted in the creation of the Grain SA, BKT and Tubestone Ploughing Competition, with the cooperation of Grain SA and BKT tyres. The competition is organised by the Sapo," adds Du Toit.
"The World Ploughing Championship was established in 1952, in Canada, to give the younger generation of men a new focus on an exciting prospect associated with farming after the Second World War. It was important to reintroduce a love for nature and farming," he explains. Currently, 58 countries participate in the international ploughing competition, hosted in different countries every year.
Visitors to the event and demonstration at last year's Nampo Harvest Day showed great interest, which served to reassure Tubestone that South Africa was ready for its own ploughing competition. "Tubestone was sure that this competition was made for South Africans, and we were right. The public's feedback proved it, which makes it difficult not to imagine that South African ploughers will soon rule at the World Ploughing Championships," says Tubestone marketing manager Yolandi Donaldson.
She explains that ploughing, using traditional ploughs and methods, is an art and a skill that is increasingly becoming obsolete, owing to improved machines and equipment. "This skill needs to be honed and protected, which the ploughing competition strives to do. Besides seeing this talent secured, it is also a matter of great honour and pride to participate in the competition. A lot of hard work, dedication and practice are needed to be successful, as is the case with any sport. Picking the fruits of one's labour is thrilling," she enthuses.
Further, Donaldson notes that the ploughing competition also adds a fun and social aspect to the ploughing aspect of farming. "While being outside, the whole family can enjoy the junior and senior events," she says.
The winner of last year's ploughing competition, Willie Ludik, will represent South Africa at this year's World Ploughing Championship, in France, during September. "To be included in this prestige competition for the first time is a historic and proud moment. The winner of this year's finals at Nampo will compete in the 2015 World Ploughing Championships, in Denmark," Donaldson concludes.