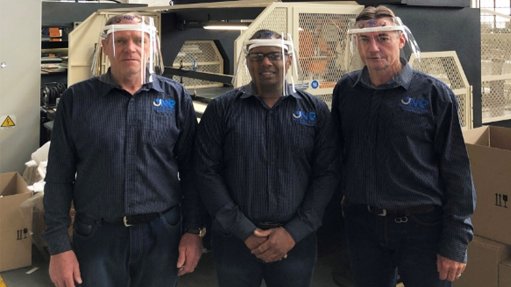 JMP factory manager Leon le Roux, Govender and Rootman
Johannesburg-based John Moffat Prolock (JMP) has been awarded a contract to supply government hospitals in Gauteng with its locally manufactured face shields.
JMP executive director Jerome Govender says the company is facing decreased off-take of its normal products owing to Covid-19, and identified face-shield production as an opportunity to get its staff back to work, while also utilising its spare production capacity.
The contract was issued and managed by Aware.org, through its partnership with a number of companies associated with the liquor industry.
Aware.org provides support for people, primarily women, in learning how to cope with violence.
The donation for the contract was provided by South African Liquor Brand owners Association (SALBA), South African Breweries, Distell, Heineken, Diageo, Pernod Ricard and Consol.
The face shields are donated to the hospitals at no cost to them.
"The entire tender process was carefully monitored by Distell on behalf of all the alcohol companies. This included pricing, quality, delivery and guarantees," says Govender.
"We are following very strict governance protocols and vetting procedures and are working closely with the national and provincial departments of health to ensure the personal protective equipment is distributed to the correct hospitals," adds SALBA CEO Kurt Moore.
Govender says the face-shield design has been tested by medical professionals and is built around durability and providing maximum protection, including an open head-piece to provide optimal airflow.
"We have also received interest from European and other African countries," he notes.
In looking beyond the Covid-19 pandemic, JMP MD Christo Rootman says the company is currently engaged in a lean manufacturing project through the Automotive Supply Chain Competitive Initiative.
"We are looking to expand the company's exposure to new Tier 1 localisation opportunities and want to exploit export and aftermarket opportunities."
JMP is a supplier of gaskets, industrial sponges, rubber and other allied products into Southern Africa.
The JMP Group, comprising of JMP, in Johannesburg, and Natal Gaskets, in Durban, was established in 1946 and is a 63% black-owned Level 2 empowered company.