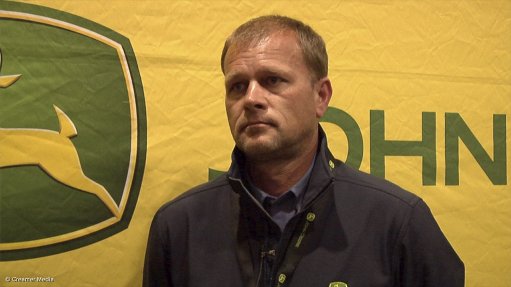 Agricultural equipment supplier John Deere sub-Saharan Africa (JD SA) on Tuesday hosted a technology day, inviting 18 solutions providers to learn more about the company's Operations Centre (OC) platform.
The OC platform comprises digital innovations to manage farming operations.
The companies were invited to join the "more tools" page on the OC, which enables users to access the services of several partner software companies and select services relevant to their farming needs.
JD SA precision agriculture specialist Wayne Spaumer said JD was broadening its ecosystem of services available to farmers to plan, implement, analyse, monitor and store data in the interest of better decision-making, improved yields and higher returns on investment.
JD SA MD Jacques Taylor pointed out that unlocking value through technology did not come from "whole goods" or machinery anymore, but rather from the data and software that was used to maximise value from farming operations.
Farmers in sub-Saharan Africa face economic and climate uncertainties and, therefore, adopt technologies faster than most countries in the world. In light of this, and with the world population expected to reach nine-billion people by 2050, led by Africa, JD SA is driving Africa's green revolution by enabling everyone "linked to the land to realise their greatest potential".
To support farmers – which are in a global pursuit to double agricultural output by 2050 – JD globally has shaped a Vision 2030, which revolves around "inside intelligence", anywhere management and autonomy.
This is evident in JD's extensive range of smart farming equipment on offer, including tillers, planters, sprayers and harvesters, as well as its service offering through the OC and JDLink.
JDLink is the company's telecommunications system, which moves data from equipped machines to the cloud-based OC, which processes the information to enable maintenance alerts, operational overviews, remote controlling and sharing of information with service providers that are associated with the farmer.
OC assists farmers in planning and set-up, which involves field mapping and job allocation, as well as monitoring, which helps to detect issues and allow adjustments to be made to machines that are operating inefficiently. Customers can also do analysis and generate reports through the OC, advising the way forward to further optimise the farming operation.
"We want to enable a farmer, irrespective of where he or she is, to have access to real-time information of what is happening on the farm, as well as enable him or her to make adjustments there and then.
"Our main focus will still be the machinery, with technology developed onto the machines, which is why we are forming vital partnerships to get technology in place," said Spaumer.
For example, on JD's Harvester S700 series, it can make its own adjustments according to conditions on the farm. Using machine learning, harvesters will take over some functionality from the human operator, while increasing productivity and efficiency.
"In the US, some of JD's tillage tools work off a prescription, which comes from soil analysis. This information can be shared with a planter, which will know where soil is harder or softer in certain areas and adjusts where and how to plant seeds accordingly. The planter then shares information with the sprayer, which will, in turn, put more product down where the seed population is higher, for example.
"Then, the harvester will work on the historical information, knowing what the sample should look like and how many losses to expect, adjusting itself as it works through the field," Spaumer explained.
However, JD cannot build every digital solution and has, therefore, created an application programme interface integration initiative, to drive in-field execution on JD machines – in other words, expanding on more tools to aid farmers in decision-making, with help from third-party companies.
JD intelligent solutions group senior product manager Daniel Harpenau stated that farmers made more than 140 decision in a growing season. JD's digital platform – the OC – can help them achieve optimal yields and outcomes.
"JD aims to be the leading digital agricultural platform for customers and their connected software companies, facilitating two-way data flows for more control and more transparency, improved support and more uptime."
The third-party service providers that JD SA invited to participate on its "more tools" page had been pre-selected, to avoid a situation where users have too many options and too many similar options to choose from.
JD SA marketing manager Stephan Nel noted that these services branched out to the farmer's wider range of operations, such as logistics management, soil analysis and financial management, to ultimately provide the farmer with a comprehensive platform for decision-making.