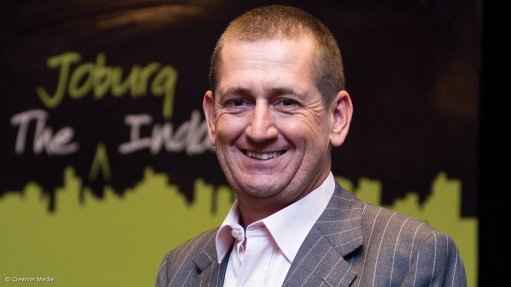 Bernard Swanepoel
Photo by: Duane Daws
JOHANNESBURG (miningweekly.com) – Officials of the Chamber of Mines of South Africa were criticised for opting to not attend Tuesday night's Joburg Indaba's gala dinner, which was addressed by Mineral Resources Minister Mosebenzi Zwane, who stated that he would not discuss the controversial but agreement-fettered Mining Charter Three.
Speaking at the Joburg Indaba's pre-conference gathering attended by 300 people, Joburg Indaba chairperson Bernard Swanepoel contended that the best way to confront the problems of the mining industry was through contact and interaction at events like the Joburg Indaba.
The Minister expressed agreement with that sentiment and referred to Swanepoel as his "brother from another mother", thanking the former Harmony Gold CEO for giving him an opportunity to speak to people with mining wisdom.
"We need to find common ground," Swanepoel said, in speaking ahead of PwC Southern Africa CEO Dion Shango, who reiterated that it was crucial for the mining industry's challenges to be confronted collectively.
"We need frank, robust and to-the-point discussion," Shango added in unison with Swanepoel, the Minister and also Teba chairperson and former unionist James Motlatsi, who was one of three South African mining industry stalwarts who were on Tuesday night inducted into South Africa's Mining Hall of Fame, which the Joburg Indaba established last year.
Motlatsi criticised the chamber's no-show and urged the South African mining industry to adopt an attitude of agreeing to disagree.
"To run away from our differences will not solve the problems of the industry," said Motlatsi.
Earlier, the Minister had stated that he was in agreement with the contention expressed at the Joburg Indaba that the industry should begin to move in the same direction together and to do so in the spirit of late distinguished ANC stalwart Oliver Reginald Tambo, whose centenary is being celebrated this month.
However, earlier this year Zwane threw the cat among the pigeons when he introduced the universally rejected Mining Charter Three unilaterally.
In his speech to the gala dinner he said it was the job of government to enable the industry, but that the industry, in turn, needed to do more for its less fortunate stakeholders once it received its return on investment and began making money.
He said mining had the capacity to change South Africa for the better and many had risen up the career ladder as a result of the industry's commitment to transformation.
"We recognise that achievement but ask whether it is enough," said Zwane, who praised the industry for helping South Africa to avoid entering into a recession.
"We are contributing something positive and mining in South Africa has to grapple with a critical question of whether it is a sunset industry," which Randgold Resources CEO and 2016 Mining Hall of Fame inductee Dr Mark Bristow assured was not the case.
Three South Africans were inducted into the Mining Hall of Fame at this year's Joburg Indaba, adding to the nine inducted last year, who were Bobby Godsell, Patrice Motsepe, Sipho Nkosi, Gwede Mantashe, May Hermanus, Phumzile Mlambo-Ngucka, Brian Gilbertson, Barry Davison and Bristow.
The three added this year are Teba chairperson and former National Union of Mineworkers president Motlatsi, former BHP Billiton CEO Marius Kloppers and former Gold Fields CEO Ian Cockerill.