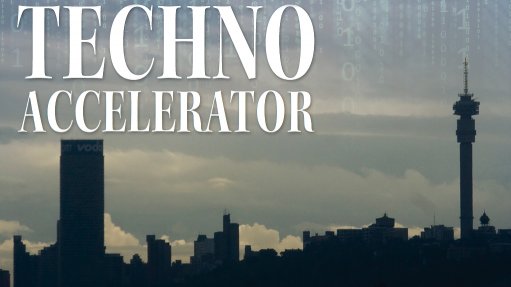 The City of Johannesburg recently called on entrepreneurs to take advantage of the economic public space it has created through its inaugural Hack.Jozi Challenge to boost the productivity of the city's economy through information and communication technology (ICT) innovations.
The Hack.Jozi Challenge, a competition for Johannesburg-based start-up entrepreneurs, aims to foster skills, innovation and entrepreneurship in digital technology. The programme aims to support capacity development, job creation, enterprise development and particularly small business.
The challenge was established in 2014, when Johannesburg Mayor Parks Tau announced that a hackathon would be launched to encourage citizens to create innovative ideas through digital formats to solve some of the city's challenges.
The R5-million challenge was officially launched in February and all ideas were submitted by the March 6 deadline.
For the challenge, the City of Johannesburg partnered with the University of the Witwatersrand (Wits) and the Joburg Centre for Software Engineering (JCSE), which is based at Wits, and school for entrepreneurs Seed Academy.
City of Johannesburg Department for Economic Development and Tourism executive director Ravi Naidoo tells Engineering News that the challenge was based on the notion of highlighting a particular area in the city for development.
"We chose Braamfontein, as it is the ICT hub of Johannesburg because of its proximity to Wits, where young people focus on technology and research. The partnership between the city, Wits and Seed Academy will help regenerate Braamfontein while promoting the productivity and development of ICT in Johannesburg," he adds.
Private funds for challenges like Hack.Jozi exist worldwide, but Naidoo says it was unique for a metropolitan city council to initiate a challenge fund as a citywide public programme.
The City of Johannesburg had researched other challenge funds globally and adopted a business accelerator concept, but on a larger scale.
As with other business accelerators, there is a competitive process to select participants – and the selected entrepreneurs receive intensive mentoring and technical and networking support to accelerate their business growth prospects, explains Naidoo.
He adds that an accelerator programme would typically select only ten participants. In the case of Hack.Jozi, 100 participants were chosen to make the competition more developmental and economically inclusive.
"Ultimately, more ICT development leads to greater productivity and sustainable growth in a city environment," says Naidoo.
Challenge Process
Since its launch, more than 140 applicants submitted ideas for Hack.Jozi. As part of the challenge, 132 applicants were selected to participate in Seed Academy's flagship ten-week training programme, Think Be Do, which began in March.
The programme focused on personal leadership, development and sound business processes to equip entrepreneurs with the skills and knowledge needed to run a successful business.
The training was targeted at each entrepreneur's specific business or idea, and consisted of practical modules and mentoring that would directly benefit the business.
The applicants were filtered down to ten and they presented their business ideas to a panel of judges, comprising industry experts, during a demonstration day last month.
The winners are expected to be announced by Tau in a few weeks.
The overall winner will receive R1-million for business development and the two runners-up will each receive R350 000.
"The winners will also receive support in various forms. The aim is to provide opportunities for them to take their ideas to market, but, as entrepreneurs, the onus will be on the winners to leverage these opportunities and turn them into viable businesses," JCSE director Barry Dwolatzky tells Engineering News.
Seed Academy COO Suhana Bisnath says the ten-week programme was extremely practical and the courses taught were presented by successful and experienced entrepreneurs.
"It is great to see that government has taken the opportunity to upskill individuals and be a part of it, and to see it unfolding is amazing. The process has been an evolution for participants and it is extremely rewarding. Ultimately, we want new businesses to enter the economy and build sustainable revenues and create jobs," she explains.
Dwolatzky says the challenge further aims to foster a culture of innovation in Johannesburg and to be as open as possible in terms of idea submissions.
The JCSE was contracted by the City of Johannesburg to host the challenge. All events associated with Hack.Jozi were held in the Digital Innovation Zone, in Braamfontein, and will form part of the Tshimologong Precinct that Wits is establishing in the area.
The precinct is part of an ICT cluster development programme, Tech-in-Braam, that aims to transform the once-dilapidated suburb into the new technical heart of South Africa.
Smart City Innovation
Naidoo says a city has to be innovative and states that, economically, the City of Johannesburg wants to ensure that the best ideas in Johannesburg take root, as it is the most ICT-intensive city in South Africa, owing to ICT spend and ICT businesses.
Many ICT ideas and new businesses are not capital intensive but network intensive, he adds.
"The programme is structured with a lot of technical support, mentorships and access to industry contacts. One of the challenges ICT entrepreneurs face is that they do not have seed funding. Their businesses are often too risky for banks to fund. We offer the funding to start-ups in ICT," states Naidoo.
Ideas must integrate ICT products in a smart city concept, he says, as it will create a stronger ICT sector in the city, which will create more businesses and jobs in the city and attract investment to the Braamfontein area.
The City of Johannesburg regards the challenge as helping to boost productivity and connectivity on the continent, as Johannesburg is regarded as the commercial hub for Southern and Eastern Africa.
Test Case
The Hack.Jozi Challenge is a test case for future competitions and Naidoo says he believes that the challenge has worked exceptionally well.
He says the City of Johannesburg has set aside a budget of R5-million for the next challenge, but it hopes to also garner funding from the private sector to cofund particular aspects of the next challenge.
Ideally, the City of Johannesburg hopes that, for every R1 it puts into the programme, R5 will come from the private sector.
"As a city, we do a lot of planning on physical infrastructure, but when it comes to economic and business development, the best ideas are always from entrepreneurs. The challenge fund creates a space for those ideas to flourish. We create the windows through which ideas compete and that is how you build a dynamic, sustainable city economy, which is the mandate of local government," Naidoo asserts.
Bisnath states that the programme is in line with the National Development Plan's aim to provide employment, but adds that government cannot solely be relied on to create jobs.
Alternative methods for job creation need to be found and the new trend is to support start-ups, she says.
Dwolatzky notes the future of South Africa and its cities depend on "igniting the spirit of innovation and entrepreneurship" in communities and adds that initiatives such as Hack.Jozi aim to achieve this.