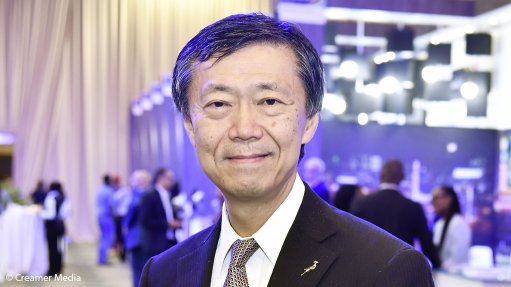 Japanese Ambassador to South Africa Norio Maruyama
Photo by: Creamer Media's Dylan Slater
Hot on the heels of South Africa's famous Rugby World Cup (RWC) victory in Yokohama on November 2, Japan and South Africa have formally agreed to create a business council that will seek to further strengthen trade and investment relations between the two countries.
The Japan-South African Business Council's formation was announced by President Cyril Ramaphosa during the second South Africa Investment Conference, which took place in Sandton on November 6.
The structure, which will draw in both public- and private-sector participants, is the outcome of an agreement reached in August between Ramaphosa and Prime Minister Shinzo Abe during a meeting in August.
The two leaders met in Yokohama during the seventh Tokyo International Conference on African Development (TICAD VII), at which Japan announced further investment commitments of $20-billion for Africa for the three-year period to be guided by the TICAD VII outcomes.
Japan's Ambassador to South Africa, Norio Maruyama, told Engineering News Online in an interview that officials from both governments were in the process of finalising a date for the council's inaugural meeting, which could take place either before the end of the year, or in early 2020.
Wearing a Springbok lapel pin, Maruyama expressed enthusiasm for South Africa's recent rugby performance in Japan, as well as for the formation of a formal structure through which South African and Japanese officials and business people could engage.
The ambassador said the idea for the council emerged during a recent rountable involving Ramaphosa and Japanese investors, who expressed a desire for regular and formal interactions so as to improve visibility of the South African investment environment and the potential opportunities.
"Japanese investors require stability and predictability and we believe that the council will be an important vehicle for exchanging the type of information that will improve predictability," Maruyama told Engineering News Online.
Japanese companies committed to investing more than R6.8-billion at the 2018 South Africa Investment Conference and during the 2019 gathering, Toyota announced that it would invest R2.43-billion in the production of a new passenger car at its Prospecton plant, in Durban.
The Durban plant currently produces the Fortuner sports-utility vehicle, the Hilux bakkie, the Hiace minibus, as well as the Corolla sedan and the Corolla Quest.
Production of the Corolla models will cease in 2020 and the new passenger model, which has not yet been identified, will enter production by the end of 2021.