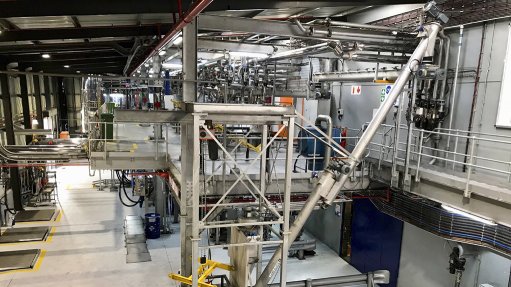 DELIVERING ON DEMAND The upgrade of the FUCHS manufacturing hub in Johannesburg would ensure adequate capacity to meet future market demand and quality standards
Lubricants supplier FUCHS LUBRICANTS SOUTH AFRICA, part of Germany-headquartered multinational FUCHS PETROLUB Group, is investigating upgrades to the warehouse and production capacity of its manufacturing hub in Isando, Johannesburg, as part of the group's global growth initiative.
The upgrade would ensure adequate capacity to meet future market demand and quality standards.
FUCHS LUBRICANTS SOUTH AFRICA manufactures more than 300 product formulations. The company operates a fully automated grease manufacturing plant, which was opened in 2018, following its acquisitions of local lubricant manufacturers Lubritene, Lubrasa and Optiflow in 2014.
The adoption of modern manufacturing methods is being evaluated, with FUCHS SOUTH AFRICA MD Paul Deppe highlighting a focus on technology that will reduce waste, enhance accuracy and, ultimately, improve quality.
"This has become essential, as our clients are demanding higher levels of quality."
Deppe states that Africa is an important market for the FUCHS group, adding that the company is continuously looking for opportunities.
One such opportunity is the acquisition of a 50% shareholding in three FUCHS distributors in Zimbabwe, Zambia and Mozambique, which was concluded early last month. The joint ventures employ 90 people and generated sales of about €21-million in the 2018 financial year.
"These countries are important markets for FUCHS and the scale of the distributors' operations made it sensible to invest," says Deppe.
FUCHS has been working with these distributors for more than 15 years and, during this time, they have done an "excellent job in building the FUCHS brand in their countries", says Deppe.
With the recent establishment of a FUCHS entity in Tanzania, the company says these acquisitions further strengthen its footprint in sub-Saharan Africa.
In addition, customers in these countries, who require lubricants and services in, for example, mining, commercial vehicle fleets, general industry, agriculture, food and beverage, consumer products and other specialty applications, will benefit locally from an "even stronger lubricants focus supported by international resources", says FUCHS PETROLUB executive VP Alf Untersteller.
Despite tough trading conditions, FUCHS has managed to keep growing and is expanding in Africa with the help of its committed and innovative partners in Zimbabwe, Zambia and Mozambique, Deppe highlights.
"Committed partners in a country make a significant difference, as it is often the solutions you offer in these regions that make the difference. Other opportunities in Africa are also being explored."
FUCHS sees significant importance in the development of Africa, where it makes sizable contributions to sustainable social development, he adds.
Lubricants Evolving
FUCHS is adapting its development strategies and working methods to meet demand for lubricants that come into contact with components in electric drivetrains, says FUCHS Lubricants global product management automotive head Markus Garb.
"When the production of electric vehicles (EVs) intensifies, other product groups will be affected. New demands will be placed on gear oils, coolants and greases, partly because they will be in contact with electric modules, sensors and circuits, as well as be affected by electrical current and electromagnetic fields."
These new lubricants need to be compatible with everything from copper wires and electric modules to special plastics and insulation materials.
Electric motors also emit a significant amount of heat, which needs to be directed away from the electric module. Here, effective cooling concepts will be increasingly important, highlights Garb, emphasising the likelihood of electric motors being driven at increasingly higher speeds to increase efficiency.
With high-speed electric motors, the revolutions per minute in the drivetrain will need to decrease. This will require new reduction gears with fewer gear steps, which will have potentially higher input speeds.
"Since the reduction gears can be combined with electric modules, their gear oils must also work well with the chosen module materials. This transition is a major challenge for developers of lubricants, since it entails a considerable change in lubricant specifications," Garb notes.
However, FUCHS is accustomed to quickly adapting to new demands, he says.